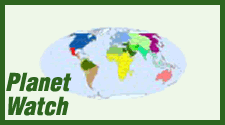 The United Nations Office on Drugs and Crime (UNODC) last week issued its World Drug Report 2017—its 20th annual survey of production, trafficking and eradication and enforcement efforts around the globe. In past years, the report has sought to quantify the amount of cannabis cultivated in each producer country—over the past decade consistently placing Morocco in first place, generally followed by Mexico and Paraguay. This general trend continues—with some new variations.
The report only attempts to quantify the area under cultivation for a handful of the top producers. Morocco is again way out in front, at 47,000 hectares under cannabis cultivation. It is followed by Mexico at 15,000 hectares. But now relative industry newcomer Nigeria is in third place at just over 4,500 hectares. Next in line is Lebanon at 3,500. Paraguay clocks in next at just over 2,780.

There is a certain lag-time in the UNDOC reports, as they are based on most recent available figures—the 2017 report draws on on data collected between 2010 and 2015. The estimates are based on "direct indicators (cultivation or eradication of cannabis plants) or indirect indicators (seizures of cannabis plants, domestic cannabis production being indi- cated as the source of seizures, etc.)..." A total of 135 countries are said to be producing cannabis based on these indicators.

Morocco remains the country most reported by governments as the source of seized "cannabis resin" (hashish), followed by Afghanistan and, more distantly, by Lebanon, India and Pakistan. Hashish trafficking was found to be more often "interregional" (notably, from North Africa to Europe), as opposed to trafficking in herbaceous cannabis, which is largely "intraregional" (for example, within South America).
The report acknowledges: "Measuring the extent of eradication is challenging because some countries report eradication in terms of hectares, while others report in terms of numbers of cannabis plants eradicated, weight of cannabis plants seized or number of cannabis cultivation sites eradicated. This makes comparisons of eradication difficult."
Leading the field in the prior category (area eradicated) are Mexico, followed by Morocco and Nigeria, based on 2010-2015 figures. The largest numbers of cannabis cultivation sites eradicated were reported by the United States, followed by Ukraine, the Netherlands and Russia. The largest numbers of cannabis plants eradicated were reported by Nigeria, followed by the United States, the Philippines and Paraguay. The largest quantities of cannabis plants seized were reported by Bolivia and Peru, followed by Jamaica.
In terms of tons of seized "cannabis herb," the United States is in the lead, followed by Mexico, Paraguay, Colombia and Nigeria. For tons of "cannabis resin," Spain is the global leader (stuff smuggled in from North Africa), followed by Pakistan, Morocco, Afghanistan and Algeria. Not surprisingly, more hashish is seized in the Old World, and more herbaceous cannabis in the New World. In 2015, almost two thirds (64%) of the total quantity of cannabis herb seized worldwide was seized in the Americas, the report finds.
Seizures are growing fastest in Africa and Latin America—more than doubling in both these regions in the 2010-2015 period. But, as always, it remains unclear whether this is due to increased production or stepped-up enforcement.
Cross-post to High Times