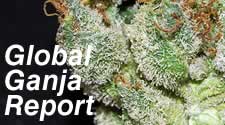 GlobalGanjaReport.com welcomes companies and organizations who want to publicize or market their products to our readers. Please contact us through the Contact Us page or at the address below.
Banners (30 - 50kb)
Skybar: 740 x 90 px
Wide Skyscraper: 600 x 160 px
Formats
Skybar: .swf, .gif, .jpg
Wide Skyscraper: .gif, .jpg

For more information, contact: feedback (at) CounterVortex (dot) org
About Global Ganja Report
Global Ganja Report aims to be the leading cannabis news website and source for everything you want to know about drug laws and usage worldwide. It was founded in March 2010 by Bill Weinberg, editor of CounterVortex and author of Cannabis Trips: A Global Guide that Leaves No Turn Unstoned, as well as a 20-year New York radio personality. For more about us, click here.
Become a Sustainer
We need your support to survive and grow. Sustainers can be public or anonymous. Global Ganja Report accepts checks and payments via PayPal (use the following button).
Refund Policy
If there is a shutdown of service for more than 24 hours, advertisers can ask for a refund. The refund will be pro-rated.