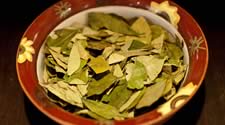 The UN International Narcotics Control Board, in its annual report released Feb. 24 called on Peru's government to take measures to reduce the country's growing illicit coca cultivation. The 2009 report finds that the area under coca cultivation decreased in South America by 8% to 167,800 hectares in 2008, largely due to a major decline in Colombia, the world's top producer. But for a third consecutive year, cultivation increased in Peru, the second largest producer.
Colombian territory under coca cultivation in 2008 totaled 81,000 hectares, an 18% drop from 2007. Cocaine production in Colombia was 430 tons in 2008, a decrease of 28 percent, or 170 tons. More than 96,000 hectares were eradicated manually and 133,496 hectares destroyed by aerial spraying in 2008. Cocaine production in Colombia was estimated at 430 tons in 2008, a decrease of 28%. In Peru, more than 56,000 hectares were found to be under coca cultivation. Between 1999 and 2008, Peruvian territory under illicit coca cultivation increased by 45%. Peru also produced 302 tons of cocaine in 2008, representing a 36% of global cocaine production that year. The report particularly named Peru's Apurimac-Ene River Valley (VRAE) as a high coca production region. The zone of high jungle straddling the departments of Ayacucho, Junín, Huancavelica and Cusco has seen growing violence over the last year.
The increase in coca cultivation in Peru can be partly explained by the "balloon effect," or the tendency of production to shift elsewhere in response to eradication efforts. "The increasing illicit cultivation of coca bush in [Peru and Bolivia], is apparently a result of drug traffickers' attempts to offset the decline in the total area under coca bush cultivation in Colombia," the INCB stated. INCB board member Camilo Uribe said if Peru's eradication policies do not improve, it will replace Colombia as the world's top cocaine producer. "The Republic of Peru, without taking more aggressive measures for eradication and the control of coca bush cultivation, could be in five or 10 years the primary producer of cocaine in the Andean countries," the Lima daily Gestión reported Uribe saying. (Andean Air Mail & Peruvian Times, Feb. 25)
One report last year found that Peru has already overtaken Colombia in cocaine production. Last year's UN survey also found coca cultivation decreases in Colombia partially offset by increases in Peru and Bolivia. However, the year before that, the UN registered a "shock" rise in cultivation in Colombia, as well as rises in Peru and Bolivia. The UN has repeatedly called upon Peru and Bolivia to ban coca cultivation altogether, instead of maintaining areas of legal cultivation—which would be a move toward the hardline Colombian model. Bolivia's president Evo Morales, in turn, calls upon the UN to remove coca leaf from the list of controlled substances.
Photo by whertha