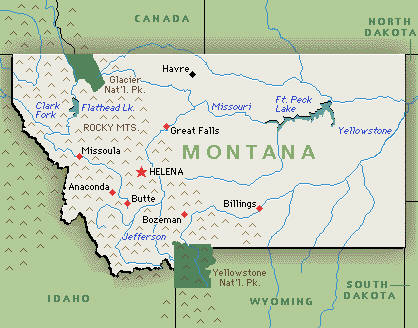 Montana this spring defeated the latest effort by anti-freedom forces to roll back legalization in Big Sky Country. And state policy has been tweaked to protect small operators, positioning this inland mountain realm to ride out the dilemmas impacting the cannabis industry on the West Coast.
On the West Coast, the cannabis industry has taken a trifecta of whammies—market saturation, the related issue of market dominance by multi-state operators (MSOs), and finally a cultural-conservative backlash in some rural areas.

Montana is definitely feeling the market glut—which may be exacerbated by illicit product coming in from Oregon and California. But local operators say they feel little concern for the other two factors.

This must come as a disappointment to the sate's extremely dogged if not terribly effective anti-cannabis forces.

De facto repeal of legalization defeated
This spring, a bill in the statehouse in Helena would have shut down adult-use sales across Montana—effectively repealing legalization.

Senate Bill 546, introduced in March by Sen. Keith Regier (R-Kalispell), focused on "eliminating adult-use dispensaries." But it also would have placed harsh restrictions on Montana's medical program. It would have raised the tax on medical-sector sales from 4% to 20%, and halved the number of mature plants a patient or provider can have at home, from two to one.

It would also have lowered the potency cap for medical cannabis, from 35% THC to a mere 10%. Similar caps would have been placed on edibles and extracts.

The text of the bill said it aimed to "reduce the demand for marijuana sales" in Montana.

Fortunately, SB 546 was short-lived. Days after it was introduced, it was shelved by the Senate Business, Labor & Economic Affairs Committee. Opponents pointed to the tax revenues that would be lost. According to the state revenue department, Montana cannabis providers did $300 million in sales in 2022, the first year of the legal adult-use market.

That same week, a bill to ban cannabis advertising in Montana similarly died. House Bill 351, sponsored by Rep. Kerri Seekins-Crowe (R-Billings), would have prohibited the "publication, dissemination, solicitation, or circulation of visual, oral, or written communication" that could "directly induce" someone to buy or consume cannabis. This was to include both outdoor signage and websites, with the partial exception of listings in online directories.

But it was voted down by the Senate Business, Labor & Economic Affairs Committee.

Also voted down by the Senate was HB 304, the "Stink Bill," which would have mandated that growing be confined to indoor or greenhouse, with mandatory air filtration systems for "odor neutralization." Growers protested this as an undue economic burden for small operators.

Most cultivation in the state is indoor under grow-lights, due to the short growing season. New licenses under the adult-use program are to be confined to indoor (including greenhouse) due to the hemp industry's concerns about cross-pollination. However, the big majority of the state's adult-use operators are holdovers from the medical program, with some outdoor cultivation grandfathered in

The Montana Cannabis Guild and the Montana Cannabis Industry Association, despite some rivalry between the two groups, were united in opposing these measures.

Montana voters passed Initiative 190, amending the state constitution to allow personal possession and an adult-use market, in November 2020. This was 16 years after voters approved Initiative 148, which established the state medical marijuana program. There have been repeated efforts by cultural-conservative forces to shut down the medical and adult-use markets alike. But thus far, the state's libertarian spirit—assisted by fiscal pragmatism—has prevailed.

Beating back the MSO threat
In contrast, two measures aimed at protecting Montana's industry from feared MSO predation met with success.
At the end of May, Republican Gov. Greg Gianforte signed HB 903, significantly raising license renewal fees based on how many stores a single cannabis business operates.

Beginning Jan. 1, Montana retailers will see their licensing and renewal fees take an exponential jump, thanks to the bill sponsored by Rep. Mike Hopkins (R-Missoula). Businesses will pay $5,000 to renew the license on a first retail shop—but then $5,000 more per each additional location. That is, an additional $10,000 for a second store, an additional $15,000 for the third store, et cetera. Up to now, retailers have been paying a flat renewal fee of $5,000 per location.

Gianforte also signed HB 128, sponsored by Rep. Joshua Kassmier (R-Fort Benton), which extends a moratorium on new adult-use licenses. Under previous law, only already-licensed medical marijuana businesses could be licensed for adult-use sales until July 1. The new law sets a new date of June 30, 2025.

HB 128 was the result of dialogue between senators and representatives on the Interim Economic Affairs Committee, state regulators, and industry stakeholders to find consensus on changes needed for the state's industry. As Montana Public Radio reports, opposition "largely came from legislators who oppose recreational cannabis sales in any fashion."

And while franchises are permitted, all actual license-holders must be state residents under regulations of the Revenue Department's Cannabis Control Division. There are currently 432 dispensaries statewide, under 270 licenses.

Independent operators speak
Matt Kleman runs Cold Smoke Organics in Bozeman, which opened as Natrapeutics under the medical program in 2012. With a degree in plant biology from Montana State University, he is engaging in organic cultivation as well as hash production and retail sales. Under the medical program, before passage of 190, all operations had to be thusly vertically integrated.

Due to Montana's short growing season, it is indoor cultivation. But Kleman is proud of what he calls his "living soil beds," that he has been developing for years with "dry amendments," or added organic materials. "I mulch in unused biomass as carbon source for next round," he says.

Speaking on the legal situation, Kleman admits: "It's been a rollercoaster since we opened, with these senate bills that were repeal in disguise—trying to undermine cannabis in the state and get it shut down. But it's never got anywhere. And here we are, doing business and going forward as an industry. You don't go against the will of the voters in Montana. So I'm used to it, and take comfort in the fact that we've made it through so much."

Kleman takes pride in the ethic of local control that prevails in the state. "Under the medical program, there was a whole bunch of little fish and a few really big players who are now in the recreational market. But there's still not a lot of MSO presence. There's a Cookies franchise in Missoula, but for the most part we're not feeling the pressure. Montana has kept its be-a-yokel-and-buy-local mentality."

On the new law raising fees for operating multiple storefronts, Kleman says: "It hurts the pockets of the big players, but it doesn't hurt the mom-&-pop stores at all. The stores where they know the people coming in by name, as opposed to the big operations where you're just another number in line. I want to maintain that integrity and small-scale model. That's what I think works, and I'd like to see it stay that way."

Kleman adds: "Montana wants to keep it within our borders, and support us little guys. Now we can continue to build our brand without the pressure of competition from the MSOs for another two years. We're not feeling the pressure we see on the West Coast of big players flooding the market and setting off a race to the bottom."

Jay Bostrom operates Dancing Goat Gardens with his wife Kim, named for their farm outside Missoula. Their dispensary in town boasts that it offers Missoula's best "permaculture-grown cannabis." They also have retail outlets in nearby Havre and Seeley Lake. They additionally have a manufacturing facility in Missoula, producing pre-rolls and "solvent-less live rosin products." These are made with ice-water, heat and pressure—from fresh-frozen flower, with the flavonoids and terpenes perfectly preserved.

Bostrom emphasizes that all their flower is grown with "regenerative farming practices—in the ground under greenhouses."

"It makes for a much better product," he says.

Dancing Goat is also pioneering methods to get around the limits imposed by Montana's short growing season. This fall they plan to break ground on walipini greenhouses, which are partially subterranean, and "use natural geothermal dynamics to heat and cool the space, so there's no need for h-vac." The method was developed centuries ago by the Aymara indigenous people of the Bolivian altiplano, and the word walipini means "place of warmth" in their language.

Bostrom also points to the work of farmer Russ Finch, who has developed "greenhouses in the snow" on his homestead in the small town of Alliance, Nebraska. He's actually been growing oranges and other citrus with this method that similarly uses geothermal heat, delivering it through a system of tubes implanted in the earth.

Bostrom looks askance at the exponential jump in license fees and the mandate for vertical integration, perceiving that these measures bottleneck the growth of the industry. "I view horizontal collaboration as the way forward," he says. "We want to build good wholesale client relationships with the retailers. After all, Heinz ketchup doesn't grow tomatoes."

But he too is confident that the backlash will be kept at bay. "Cooler heads will prevail," he says. "There's a constitutional right to posses marijuana in our state, you're not gonna undo that."

Cross-post to Cannabis Now


Map by
GreenwichMeanTime