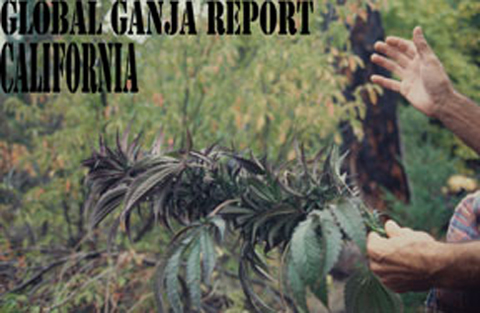 The wildfires devastating Northern California are obviously taking their toll on this year's cannabis harvest. And this in the critical countdown to legalization, which takes effect in Golden State in January. This even won coverage in the New York Times Oct. 13. The paper cited Hezekiah Allen, executive director of the California Growers Association, saying that at least seven cannabis farms had been destroyed, and that he expected the number to "increase significantly" as people return to their homes.
If a significant amount of the harvest is destroyed, it could have the effect of jacking up depressed prices just as they are expected to plummet further when legalization takes effect. While it is a grim way of acheiving the aim that certainly nobody wanted, this could potentially cushion the transition to legalization for the Emerald Triangle's small growers, who are worried about being priced off the market by major players entering the industry, with the capital to exploit economies of scale.
Writing for the environmental journal Grist, Stett Holbrook grapples with this question in an article entitled "The High Price of Cheap Weed." Citing Oakland-based cannabis industry research firm Arcview Group, Holbrook writes that California's legal medical marijuana business generated $1.8 billion in revenue last year. Meanwhile, the state's illicit markets pulled in $5.1 billion. Once legal recreational cannabis hits the market, Arcview forecasts its value will hit $5.8 billion in the next four years.
But the article notes the reluctance of many outlaw growers to even take advantage of legalization by registering with the authorities. So far, only about 3,000 of the estimated 50,000 cultivators in the Triangle (defined as Humboldt, Mendocino and Trinity counties) have applied for permits. "For some operators, the cost of legalization–tens of thousands of dollars for even a modest-size operation, not including attorney and consultant fees—is simply too high."
And there is also the threat of competition from the south. Well-capitalized operators are planting cannabis in giant greenhouses in the traditional agricultural heartalnds of the Central Valley and Monterey County's Salinas Valley. These big growers have a price point of about $1,300 a pound—while just a few years ago Emerald Triangle growers could get more than triple that.
Girst spoke to Humboldt State University agriculture expert Fred Krissman at a California Bureau of Medical Cannabis Regulation meeting in Santa Rosa. As an example of how industrial cannabis could affect Emerald growers, Krissman pointed to Harborside, an Oakland-based dispensary now developing a 47-acre farm with 360,000 square feet of greenhouses in the Salinas Valley.
To help protect the Triangle's traditional growers, Krissman calls limiting farms to one acre, as well as imposing a government-subsidized floor price of $1,000 per pound at the farm gate. But he recognizes such ideas have little chance of success in the current loose regulatory climate.

Some protectionist measures are being taken—but not on behalf of the north country's small growers. To protect Salinas Valley's existing $5 billion traditional agricultural sector, Monterey County officials have restricted cannabis cultivation to existing greenhouses. This move has sparked a real estate frenzy for ramshackle greenhouses that used to produce flowers before "free trade" opened the door to cheaper Colombian imports in the 1990s..

The specter of "corporate cannabis" was part of what led to the defeat of the 2010 legalization initiative in California. At least keeping a market niche for the small producers will now be a challenge for growers, advocates and policy-makers alike.
Cross-post to High Times
Graphic by Global Ganja Report