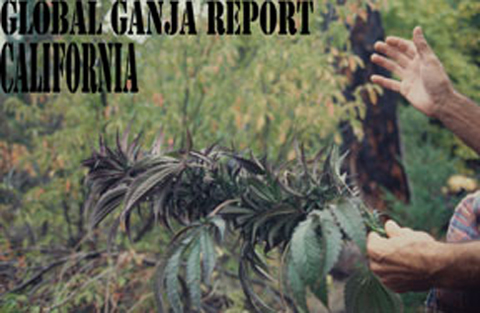 In a move that raises questions over the rights and limits of tribal sovereignty, Mendocino County sheriff's deputies on Sept. 22 raided a medical marijuana grow operation on Indian land just outside Ukiah—targeting a project hailed as a new economic model for cash-strapped tribes. Some 400 outdoor plants were eradicated on lands of the Pinoleville Pomo Nation. Deputies also seized more than 100 pounds of trimmed and drying bud at a Ukiah laboratory run by the tribe where cannabis-infused honey oil was being produced.
Pinoleville Pomo leaders assert they have a right to grow cannabis on their 99-acre rancheria for the benefit of the estimated 250-member tribe. "I think what they're doing is not right," Nori Baldridge, the tribe's director of economic development, told the Santa Rosa Press Democrat. "This is sovereign land and this is a sovereign nation."
"We were shocked," added Mike Canales, president of the tribe's business board, saying he'd been in frequent contact with Sheriff Tom Allman and expected to be notified before any raid.
The Mendocino County Sheriff's Office asserted when the project was launched earlier this year that the tribe would be required to comply with local laws, including the county's limit of 25 plants per parcel. Capt. Greg Van Patten of the sheriff's office admitted to the Press Democrat that the department had since determined that the limit doesn't apply to Indian lands, but cited the operation's "sheer size" as cause for the raid—indicating intent to generate profit, which is barred by California law. "In no shape or form is this even close to being legal," Van Patten said.
As for the sovereignty question, the closest the sheriff's office press release comes to addressing it is the following text: "In 1953 Public Law 280 mandated a substantial transfer of jurisdiction from the federal government to the state level in California as to situations occurring on Indian Country. As a result, The Mendocino County Sheriff's Office is mandated to assume jurisdiction on Indian Country located in the unincorporated areas of Mendocino County and to enforce California state laws..."
The Tribal Court Clearinghouse, a resource site on American Indian law, notes that Public Law 280 transfered jurisdiction from federal to state authorities in criminal justice matters on tribal lands in five states: California, Minnesota, Nebraska, Oregon and Wisconsin (Alaska was added upon statehood). The page also states: "Public Law 280, however, is a complicated statute which has been very controversial since the time of its enactment in 1953. It has often been misunderstood and misapplied by both federal and state governments. Moreover, the practical impact of Public Law 280 has gone far beyond that which was legally required, intended, and contemplated." Specifically, PL 280 does not address the limits on either state or federal authorities proscribed by tribal sovereignty—a contentious question that the courts may have something to say on in the wake of the Pinoleville Pomo bust.
Another issue is raised by the fact that the raid comes days after Sacramento approved legislation establishing guidelines for commercial medical marijuana production. The package of three bills has not yet been signed into law by Gov. Jerry Brown, but he is widely expected to do so—giving the Mendocino raid a distinct whiff of cynical timing.
Cross-post to High Times
Graphic by Global Ganja Report