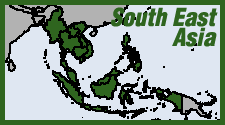 A young man from Wisconsin has been jailed on a cannabis charge in the Philippines, and his mother back in the states says she fears for his life. The case has brought some stateside media attention to President Duterte's relentless and draconian "drug war," which has sent nearly 200,000 Filipinos to prison.
President Rodrigo Duterte of the Philippines has been waging a blood-drenched campaign against illegal drugs that many human rights advocates say has reached the point of crimes against humanity. It only rarely makes headlines here in the US, but the situation is currently set to escalate yet further.

Following last month's midterm elections in the Philippines, Duterte's ruling bloc now has a supermajority in the country's Senate, which means the opposition stands practically no chance of blocking the extraordinary powers he is seeking to pursue his "drug war." Among the winners is Duterte's former National Police chief, Ronald dela Rosa, who until stepping down to run for the Senate was at the helm the ultra-murderous drug crackdown.

Most obviously, this almost certainly means the long-sought medical marijuana law in the Philippines is now dead. The measure passed the Philippines' House of Representatives in January, but now stands little chance in the Senate. Duterte himself has flip-flopped on the issue—even saying in December that he used cannabis himself to stay awake, but shortly later backpedalling, saying he had been "joking."

Human Rights Watch lectured him that it is no laughing matter, with 12,000 killed by his National Police and unaccountable paramilitary forces since he took office in June 2016. Others have put the death toll as high as 20,000—overwhelmingly smalltime users and dealers.

More disturbingly, Duterte's supermajority may allow him to push through his proposed constitutional changes, giving him sweeping powers to execute his "drug war," rule by decree, and stay in power indefinitely. All too tellingly, in Duterte's draft constitution there is no longer any mention that the Philippine government "guarantees full respect for human rights."

Amid all this, it won at least brief flurry of stateside news coverage when it turned out that a young US citizen has been swept up in Duterte's crackdown, imprisoned and under threat to his life—over a cannabis charge.

Jailed Wisconsin youth wins headlines
The case of Orion Alfonso Hamre Tamayo, 26, of Madison, Wisc., was profiled by NBC on May 31. He had been arrested the previous week, after going to a Manila area customs office to pick up a parcel, addressed to him by a sender he says he didn't know. The parcel turned out to contain 30 vials of liquid THC, the psychoactive chemical in cannabis.

Tamayo, a dual US-Philippine citizen, has been charged with drug smuggling and faces the prospect of a long prison term—on top of what is typically years behind bars waiting for a trial. His mother, Davina Stewart, told NBC she is convinced her "happy-go-lucky" and "very soft-hearted" son is innocent.

"This is absolutely soul-crushing and heart-shattering," Stewart told NBC News from her home in Minnesota. "I believe his life is in danger," she added. "This has been a nightmare."

Stewart said she has spoken to her son by phone since his arrest, and he is being held in a cell at the Philippine Drug Enforcement Agency (PDEA) headquarters in Quezon City. Tamayo, who had never had a run-in with the law before, moved to the Philippines at the age of 18 to attend college. Enchanted by the country's culture, he decided to stay after completing his studies.
Tamayo's case certainly demands attention. But he is one among many thousands of anonymous Filipinos. It was reported in March that since Duterte took office, the National Police and the PDEA have arrested 170,689 drug suspects—again, overwhelmingly, personal users and street-level dealers. The number is doubtless higher now.
Duterte's next crusade: censoring rap music?

On the subject of Philippine culture, another target of Duterte's anti-drug wrath is now a local music star. The
Philippine Star
newspaper reports that the PDEA is seeking to ban a song by young Filipino rapper Shanti Dope. PDEA director general
Aaron Aquino
released a statement May 23 claiming that the lyrics of Shanti's new song, "
Amatz
," promote the use of cannabis.
"It appears that the singer was referring to the high effect of marijuana, being in its natural/organic state and not altered by any chemical compound," Aquino said in the statement, issued after the song made its debut on the popular TV show "
ASAP
."
"We strongly oppose the promotion of musical pieces or songs that encourage the recreational use of drugs like marijuana and shabu. It is contrary to our fight against illegal drugs," said the PDEA chief.
"Shabu"
is Philippine slang for methamphetamine, so bringing it up appears to be more of the disingenuous conflation of cannabis with actually dangerous drugs.
Shanti Dope's label,
Universal Records
, issued a statement from Shanti's collaborator on the song, another local hip-hop star named
Klumcee
, saying, "The song Amatz's message is about having a natural high—being one with nature, and an awareness about our environment in society, which is bombarded by synthetics and chemicals. We made a conscious effort to make it sound like a banger so that a lot of people would enjoy and feel the vibe and message behind the song,"
Whether or not "Amatz" is explicitly about cannabis, there is a whiff of political retribution to the PDEA's move. Other of Shanti Dope's songs, particularly "
Norem
," are named as explicitly critical of Duterte's anti-drug campaign.
Duterte keeps tightening screw
In what seems like a final glimmer of fast-fading justice in the Philippines, three police officers were
convicted
last November of murdering an innocent teenager,
Kian Delos Santos
, during an anti-drug patrol in a working-class district of Metro Manila. The slaying of the youth in 2017 became a major scandal. The three officers were sentenced to 40 years in prison each.
But things have only gotten worse since then. In February, Maria Ressa, publisher and executive editor of the investigative news site
Rappler
, was
arrested
on charges of cyber-libel for her critical coverage of Duterte.
On the stylistic tip, Duterte has continued to provoke outrage—in March, he committed the
faux pas
of actually
using the word "bitch"
to refer to women at an event to promote gender equality.
Most ominously, the Philippines formally
withdrew
from the
International Criminal Court
in March, becoming the second country to do so (after Burundi). Duterte had threatened to leave the ICC if it launched a case against him. And the court had indeed recently
opened a preliminary investigation
into accusations that Duterte's security forces have committed mass murder and crimes against humanity in the context of his war on drugs.
Cross-post to Cannabis Now