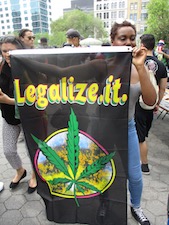 New York City's Cannabis Parade, flagship entry in the Global Marijuana March movement and a counterculture event dating back to the early 1970s, this year actually drew mainstream politicians and candidates. Nearly all struck themes of racial justice, emphasizing that a push for legalization in the Empire State must also address the social iniquities of cannabis prohibition and the "war on drugs."
Originally launched by the Yippie radical youth movement as the Pot Parade in 1973, the New York Cannabis Parade (as it is now known) bills itself as "the longest running public demonstration for the reform of drug policy" both in the Big Apple and around the world. Starting in 1999, it actually spawned an international movement, with a Global Marijuana March held the first Saturday in May in hundreds of cities across dozens of countries across the planet.

This year, the presence of big-name celebrities, office-holders and political hopefuls was a testament to the mainstreaming of demands for freedom for the cannabis plant—and a righting of the social wrongs assoicated with its prohibition.

Gathering at Herald Square at 11 AM, the hundreds-strong march arrived some 20 blocks downtown at Union Square for a concert and rally by early afternoon. There, the headlining speaker was Cynthia Nixon, the former TV star who is now challenging incumbent Andrew Cuomo from the left for the New York governor's office in this year's Democratic primary—and making cannabis a key issue.
Nixon set the tone fot the event. "I want to legalize cannabis in New York state first and foremost because it is a racial justice issue," she exhorted from the stage, to cheers from the crowd. "If you are Black or Latino, you are 10 times more likely to be arrested for cannabis than if you are white. And that is not right. That is not what we believe in in New York state, and it is not what we should believe in in the United States of America!"

"In 2018, in a blue state like New York, marijuana shouldn't even be an issue," she added, in an unsubtle dig at Cuomo. "If there was more political courage coming out of Albany we would have done this a long time ago."

She concluded that "cannabis prohibition is the crown jewel in the racist war on drugs, and we must pluck it down. When i am governor and we legalize in New York state, we will prioritize people of color for licenses to grow cannabis."

Nixon was immediatley followed by Rafael Espinal, a New York City Council member from Brooklyn, who also came out as a supporter of legalization. "This is the year we have to legalize marijuana in New York state," he declared to the crowd.

Next up was Howie Hawkins, the Green Party candidate for governor, who urged that New Yorkers must "demand more than our present ineffective medical marijuana program which seems primarily designed to enrich a few well-connected business people. Even though New York decriminalized small amounts of marijuana 40 years ago, local police especially in New York City have used the discriminatory enforcement of the law to target people of color."

One surprise speaker was Curtis Sliwa, former leader of the Guardian Angels anti-crime street patrol and for years after that a conservative tough-on-crime talk-radio commentator. At the rally, he came out as a medical marijuana user.

Headlining entertainment at the rally was New York-based hip-hop legend Immortal Technique.

Literature tables at the periphery of the rally were maintained by the New York Minority Alliance, a group working for greater diversity in the cannabis industry, and other local industry networking groups including CannaGather, High NY and WomenGrow. Activists gave out information on New York's pending Marijuana Regulation and Tax Act (MRTA).

In a testament to the event's evolution from a radical counterculture affair nearly two generations ago to a gig that draws mainstream political figures, the Daily News coverage of the Cannabis Parade featured a photo of Cynthia Nixon schmoozing backstage with a now wheelchair-bound Aron Kay, the famous "Yippie Pie-Man" who in his glory years won fame by wafting pies into the faces of politicians (including Jerry Brown, G. Gordon Liddy and William Buckley).

Cross-post to Cannabis Now
Photo: Global Ganja Report