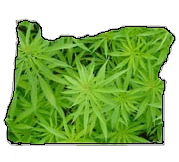 Police on May 23 arrested four in raids on medical marijuana dispensaries in Southern Oregon. Medford Police Chief Tim George said the arrests followed a two-year investigation in which undercover police purchased cannabis outside the law governing medical marijuana. The Oregon medical marijuana allows growers to recover only their expenses, and nothing to cover their labor or a profit. Oregon's Mail Tribune reports that among the four was Lori Duckworth, executive director of Southern Oregon NORML.
Duckworth faces 22 counts of conspiracy to deliver marijuana within 1,000 feet of a school. A Jackson County drug unit raided the office of Southern Oregon NORML, which was said to be within the 1,000-foot perimeter around a local parochial school, as well as Puffin' Stuff and The Green Compass dispensaries. Police said they also searched the suspects' homes.
As police were searching the Southern Oregon NORML office, located next door to the Federal Courthouse in Medford, a crowd of angry protesters gathered nearby. "Here they are wasting taxpayer money on people who deliver medicine to those in need, while a bunch of tweakers are just down the street," said Jodi Miller of Medford, referring to methamphetamine users.
Police later held a press conference on the raids but barred everyone but reporters with credentials. "I think we deserve answers when police officers take medicine from people who need it," said Taurie Rubaloff of Ashland. Keith Mansur, who runs the Oregon Cannabis Connection newspaper, said the raids would force medical cannabis users to turn to the black market. "They just raided places that provide medicine to thousands of people," he said. (AP, May 24)
Image by MMJ-Guide.com