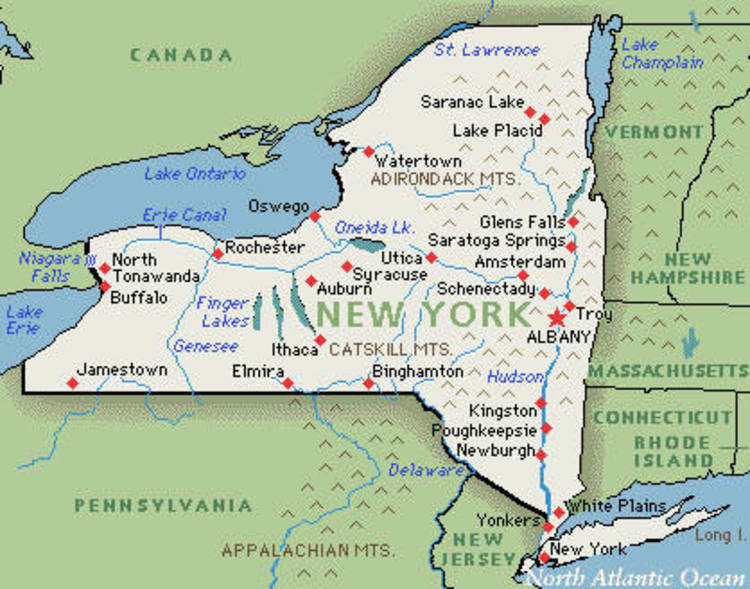 New York's Gov. Cuomo is broaching a cannabis common market for the tri-state area, joining with New Jersey and Connecticut to harmonize regulations and even cooperate in joint purchasing. But the move is being considered partly as a reaction to the vaping scare, and official statements reveal some dangerous confusion as to the distinction between vaping cannabis extracts and smoking actual cannabis.
Andrew Cuomo, the pro-legalization governor of New York, is now seeking to forge a pact with the neighboring states of New Jersey and Connecticut to coordinate on cannabis policy and even establish mechanisms for common purchasing of product. A summit of the three governors, and possibly others from Northeastern states, is slated this month to begin talks on the proposal.

Cuomo announced the upcoming summit on a visit to Hartford late last month to meet with his fellow pro-legalization Democrat, Connecticut Gov. Ned Lamont.

"Why wouldn't New York and Connecticut work together? We're neighbors. We have the same problems. We have a common border," Cuomo said at the Connecticut governor's mansion, according to an account in the Press & Sun-Bulletin of Binghamton, NY. "We're better together than we are separate. It makes all the sense in the world for us to work together."

Cuomo especially invoked the wave of serious illness apparently related to vaping as an imperative for inter-state cooperation. "it makes no sense to pass one set of rules in New York when they can just drive across the border to Connecticut and have a different set of rules and vice versa," Cuomo said, according to Oswego's WRVO.

Lamont in his comments also cited the gridlock in Washington as mandating such compacts between states. "The states are stepping in and filling a void left by the federal government, and that's why we are taking the lead on a lot of these issues," he said.

Lamont raised the prospect of "joint purchasing" of cannabis, which could mean a "real savings" for participating states. He decried the state-by-state "patchwork of rules and regulations, different qualities in terms of public safety and public health." Ge added that "Gov. Cuomo has been really forceful in saying 'We want to do this together and we want to do it on a timely basis.' We don't want to give up marijuana to the black market, we've seen how dangerous that can be."

New Jersey's Gov. Phil Murphy, another pro-legalization Democrat, offered a statement saying his office "is open to collaborating with regional partners on these issues."

Among states bordering New York, only Massachusetts and Vermont have legalized. The Empire State's own legalization bid failed in the state legislature earlier this year, although Cuomo pledges to try again in 2020. Anonymous sources tell the New Jersey Advance that lawmakers in the Garden State will also be introducing a legalization bill by year's end.

Things have not advanced so far in Connecticut, but Lamont in April called for legalization by year's end. When lawmakers failed to introduce a bill by the end of the legislative session in June, he called for the issue to be put directly before the voters in a referendum.
Confusion between smoking and vaping
Other of Cuomo's recent comments, however, betray some serious confusion on the whole vaping dilemma—and the critical distinction between vaping cannabis extracts and smoking herbaceous cannabis.

In a Sept. 15 interview with MSNBC, noted by Marijuana Moment, Cuomo was aggressively questioned on whether the wave of vaping-related illness has made him reconsider pursuing legalization. "No," he replied—but added that his administration is "not in favor of smoking marijuana," and that there are "ways to get THC without smoking marijuana."

"People are vaping THC, yes that is true," a seemingly flustered Cuomo said. "We think that from a public health point of view, that is not something that we recommend and we think it's dangerous—smoking of any kind."

"You can legalize marijuana and sell THC in compounds that do not require you to smoke the marijuana, and we do not support smoking of marijuana," he added. "There are compounds that have the THC, which is a compound in marijuana, that you don't smoke."

We can only hope Cuomo was momentarily befuddled under the pressure. The evident dangers of vaping illicit-market extracts constitute no argument against legalizing the smoking of herbaceous cannabis—a perfect non-sequitur. On the contrary, the states hardest hit by the vaping-related illnesses have been those where cannabis remains illegal, such as Wisconsin. As we can imagine, the illegality of herbaceous cannabis drives many to seek illicit-market dab carts as an alternative. None of the illness cases have been tied to smoking herbaceous cannabis.

Let's hope Cuomo is not actually considering a counter-productive pseudo-legalization that excludes smokable cannabis flower—as New York's medical marijuana program currently does.

Cuomo, in a more lucid moment, issued an emergency executive order banning all flavored vape products (excluding menthol) in response to the wave of illness. But on Oct. 3, a day before the ban was to take effect, a state appellate court put the kibosh on it—at least until a final ruling in the case challenging the ban. .

"We are very pleased with the New York State Appellate Division's decision, which acknowledges the strength of our claims about the State's executive overreach," said Tony Abboud, head of the Vapor Technology Association, according to the New York Post.

Cross-post to Cannabis Now

Image from GreenwhichMeanTime