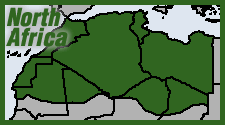 Moroccan lawmakers on Dec. 4 opened an unprecedented debate on legalizing medical and industrial uses of cannabis. The discussion of positive uses of cannabis cultivation "in creating an alternative economy" in Morocco, one of the world's top exporters, was convened following a campaign by dissident politicians. "We are organizing a research day in parliament...on the use of medical kif, with Moroccan and international experts present," said Mehdi Bensaid, an MP with the Party of Authenticity and Modernity (PAM), adding that lawmakers are "looking at controlled rather than total legalization." Activists from Switzerland spoke about their country's experience with a recent decrim law at the session, which Bensaid called "the first step towards a draft law."
Cannabis is cultivated across the Rif Mountains of Morocco's north—only outlawed in the 1970s. Despite authorities' claims to have dramatically reduced the area under cultivation over the past decade, an estimated 90,000 households, or 760,000 Moroccans, still depend on kif production, according to official figures. Record hauls of Moroccan hashish have been registered in Spain this year. Those campaigning to have pressure on cannabis lifted say it would promote much-needed development in the Rif, benefiting the producers—mostly poor farmers—rather than illegall traffickers who now reap the big money from the trade.
Ahmed Benomar, planning director of Morocco's Agency for the Promotion and Development of the North, told the assembled MPs: "We have done feasibility studies on the medical and industrial use of cannabis, and we found that farmers would earn less than they do by selling it illegally. So we are proposing that the state subsidize its legal exploitation and support the integrated development of the region, to put an end to the illegal trade." Added Chakib al-Khayari of the Rif Association for Human Rights: "We are not here to confront the drug trafficking networks, but to defend the small farmers so that they might benefit legally from cultivating cannabis." (AFP, Dec. 4; Middle East Online, Dec. 2)
Illegal exports to Spain—main entrepot for Moroccan hash into Europe—sure aren't slowing down. Spanish authorities on Nov. 6 seized over 10 metric tons of hashish from a fishing boat in the Atlantic Ocean and detained the vessel's 13 Moroccan crew members. Spanish customs agents boarded the boat in international waters 50 nautical miles off the Cape St.Vincent, the southwesternmost point in Portugal, and escorted it to the Spanish port of Cadiz where they unloaded the drug haul, the Interior Ministry said.
Days later, Spanish police detained 12 people suspected of belonging to a ring that used jet skis to smuggle hashish from Morocco into Spain, across the Strait of Gibraltar. Several houses were raided in the southern province of Málaga and in Spain's North African territory of Ceuta in the sting operation. (AFP, Nov. 14; AFP, Nov. 6)
Cross-post to High Times