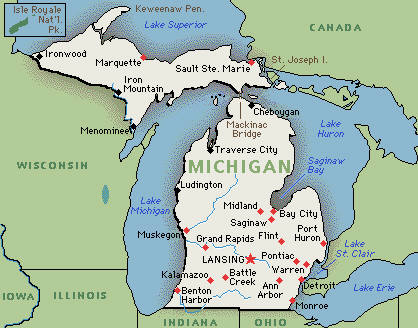 Cannabis is set to become legal in Michigan after voters in the Wolverine State passed Proposal 1 during the midterm elections.
The passage of Prop 1 makes Michigan the 10th state in the nation and the first in the Midwest to legalize cannabis for "recreational" use, joining California, Oregon, Washington, Alaska, Colorado, Nevada, Massachusetts, Vermont, Maine and Washington DC.
The Coalition to Regulate Marijuana Like Alcohol declared victory late Tuesday night, as Proposal 1 garnered 57.7% of the vote, with 53% of the precincts responding.
"The Proposal 1 campaign boiled down into one of fact versus fear," the Coalition's Josh Hovey told the Detroit Free Press as the results came in. "The data from the nine other states to have legalized marijuana made clear that regulation and taxation are a better solution. Legalization of marijuana will end the unnecessary waste of law enforcement resources used to enforce the failed policy of prohibition while generating hundreds of millions of dollars each year for Michigan's most important needs."

Proposal 1 (more formally 18.1), the Michigan Regulation and Taxation of Marihuana Act, allows those 21 and over to carry 2.5 ounces in public and to have up to 10 ounces and 12 plants at home—as long as they are not grown in a location visible from outside.

It will not allow use in a public place, or a private location where the proprietor forbids it. Nor will it override workplace drug policies.

Taxation windfall foreseen
The measure calls for licensing of businesses to cultivate, process, test, transport and sell cannabis. The plan calls for a 10% excise tax on retail cannabis sales in addition to the state's standard 6% sales tax. The plan is designed to align with a new, stronger regulatory system for medical marijuana businesses in Michigan. Proponents say it could add millions annually in tax revenue.
"We're wasting $90 million a year enforcing a failed policy of marijuana prohibition and polls across the country show that 66 percent of voters want to see marijuana legalized and regulated," Hovey told Grand Rapids' 24 Hour News 8 before polls closed. "If we don't get on top of this now with some strong regulations, it's going to get too far beyond us."
"Look at the never-ending cycle, especially in our urban areas, of young men and women getting arrested for something as like a dime bag of weed," added Prop 1 advocate Jay Jones. "They're going into the system. They're not getting jobs so they're turning back to crime and it's just a never-ending cycle."

Others emphasized the coming challenge of crafting the new system with a sense of equity for the communities disproportionately impacted by prohibition. "We still have to work out...restoring people's justice," said Cannabis Legal Group principal attorney Barton Morris after victory was declared. "There are thousands upon thousands of individuals that have been disproportionately affected with cannabis-related convictions. We have to remove those convictions off their record."
Michigan's new cannabis order
Under Michigan's constitution, voter-approved initiatives "take effect 10 days after the date of the official declaration of the vote." That count doesn't start until the election results are certified by the Board of State Canvassers, a process that usually takes about three weeks. Then, before retail sales begin, Michigan's state and local governments must establish regulations for oversight of the business. That is likely to take at least two years, with the Department of Licensing and Regulatory Affairs (LARA) given 24 months to draft the licenses.

The state's municipalities will be able to opt out of allowing retail cannabis sales. Localities will also be able to place a limit on the number of retail outlets they allow. So the availability is likely to be very uneven statewide.
It is clear that there will be local resistance. This is made evident by the organized opposition to Prop 1.
"Obviously the results of today's election were not what we hoped for. It is important to note that more Michiganders voted no on Proposal 18.1 than on the other two proposals," a spokesperson for
Healthy and Productive Michigan
told Detroit's
WXYZ
after the vote. "While our side lost tonight, it is important to recognize the level of responsibility that now rests on the shoulders of those who have voted Yes."
All three of the ballot measures passed. Proposal 2 was a constitutional amendment creating an independent commission to draw the state's voting districts, rather than the governor and legislature. Proposal 3 amends the constitution to allow Michiganders to register and vote on the day of an election.
North Dakota didn't make it
Michigan was
one of two states
where voters faced a legalization initiative. But voters in North Dakota
rejected
by a 60% margin the Marijuana Legalization and Automatic Expungement Initiative, or
Measure 3
. The measure would have not only legalized possession and cultivation in any quantity for those 21 and older, but also would have wiped out the records of anyone convicted of a marijuana-related offense that would have been legal under the new measure. This would have affected tens of thousands of criminal records—winning harsh opposition from law enforcement. The North Dakota election was tainted by a controversial voter ID that
disproportionately affected Native Americans
.
Cross-post to Cannabis Now



Photo by GreenwichMeanTime