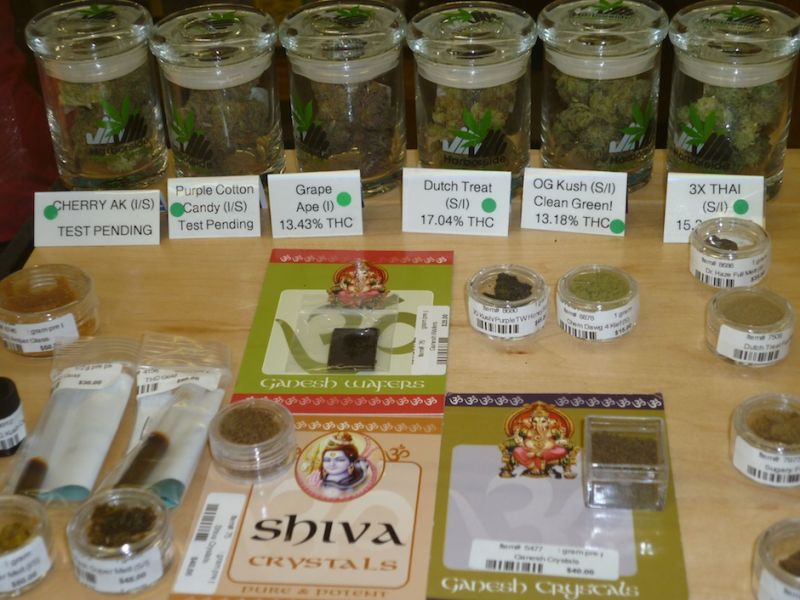 Over the past generation, an informal alliance of activists, cultivators, entrepreneurs and medical professionals has struggled to redefine how the United States views the cannabis plant. Victories at state and municipal levels have created a new field of medicinal treatment for a wide variety of ailments in California and other mostly western states. Medical marijuana marks the starkest point in the divide between an industrial model of healthcare and a millennia-long tradition of herbal self-treatment—because nowhere else has the federal government been so intransigent.
Few American know that it wasn't always this way. Cannabis-based elixirs and tinctures were common medicine in the US in the 19th century. It is only over the past generation that researchers have re-examined cannabis' utility in pain relief and as an anti-emetic, and established its efficacy in treating glaucoma. New research shows effectiveness in fighting spasticity from multiple sclerosis, and hints at treatments for Alzheimer's disease and even cancer.
Eighteen states have passed medical marijuana laws either by legislation or referendum since then: Alaska, Arizona, Colorado, Connecticut, Delaware, Hawaii, Maine, Maryland, Michigan, Massachusetts, Montana, Nevada, New Jersey, New Mexico, Oregon, Rhode Island, Washington and Vermont. These generally allow for a medical defense for possession or cultivation of a quantity that varies from state to state. State and local law enforcement have not always honored the laws. California has especially seen a labyrinth of litigation over its medical marijuana law, with localities allowed to determine permissible quantities and establish licensing programs—and more conservative ones refusing to do so.
Amid an escalating crackdown by the DEA and federal attorneys on medical marijuana dispensaries and cultivators, especially in California, ASA pledges that it will take the rescheduling case to the Supreme Court if need be. ASA's case is the first of its kind in nearly 20 years.
The movement that is pushing these legal and cultural limits represents a strange convergence of activism and capitalism—but even those who continue to produce and market medical marijuana despite the threat of federal action can be seen as committing civil disobedience.
Oakland city attorneys are fighting in federal court for the right of Harborside, its biggest dispensary, to remain open. But hundreds more dispensaries around California have been forced to close over the past two years as federal attorneys threatened their landlords with property forfeiture.
The administration's motives in this turn-around may be the imperative for an easy victory for the principle of federal power that Obama hopes wield against the draconian anti-immigrant legislation in Arizona and several other states. But it should be noted that the administration has been equally intransigent on the international level.
Bolivia's efforts to win UN recognition for traditional chewing of coca leaf is a clear parallel to the struggle for medical marijuana in the US. Traditional users in Bolivia similarly claim medicinal value, and coca is blacklisted under the same treaty as cannabis —the 1961 Single Convention on Narcotic Drugs, which was, of course, spearheaded by the United States. It is this treaty that establishes the regime of "schedules" for all controlled substances. Cannabis is actually in a more restrictive category than "Schedule 2" cocaine, which is held to have legitimate medical uses. But because coca leaf contains the chemical cocaine (in extremely minute quantities compared to the refined white powder), it was supposed to be barred under the treaty—until this January.
There have been criticisms of the medical marijuana movement even from those who favor a more enlightened policy on the herb. There have been persistent charges, for instance, that medical marijuana is a subterfuge for general legalization. And of course most who support medical marijuana also support the right to "recreational" use. But there is something to be said for the notion of triage—of lifting the legal pressure first on those truly in need.
More problematic is the frequently heard notion that "all marijuana is medical marijuana"—that habitual users are in most cases self-medicating for conditions such as stress or depression. This actually seems like a less spurious position when seen in light of the massive use of prescription pharmaceuticals for precisely such issues. Those who would accuse medical marijuana advocates of hypocrisy should first acknowledge that we constitute a heavily medicated society.
The medical marijuana community is certainly united on the principle that it should be free to work out its own contradictions without the shadow of federal legal pressure. The stigma that still attaches to cannabis, even in progressive circles, remains an obstacle to building alliances that could link the right to herbal medicine to related struggles for social justice—those against the prison-industrial complex, police brutality and killings, and foreign military interventions in the name of the "war on drugs."