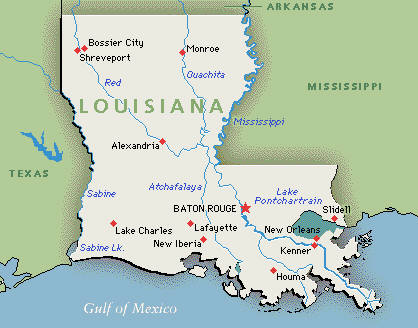 After what has been an agonizing delay for many patients, Louisiana's first medical marijuana harvest has just cleared inspection. But there are still more hurdles before the first extracts and tinctures will begin arriving in the state's nine approved pharmacies.
Louisiana's first medical marijuana crop this week passed a series of laboratory inspections, raising hopes that patients who have been waiting for years may finally get their medicine.

The tests were carried out by the state Department of Agriculture and Forestry (LDAF) on cannabis produced by Nevada-based GB Sciences in conjunction with the Louisiana State University AgCenter. The product was tested for potency as well as any residue of pesticides, mycotoxins or other contaminants. Work is now to commence on extraction for the first approved products, according to WAFB in Baton Rouge.
Under the state medical marijuana program, launched under a 2015 law, only extracts, tinctures and other such preparations will be permissible—not actual herbaceous cannabis, either smoked or vaped. And while nine pharmacies have been licensed for distribution, these will not be receiving product until enough of a supply has been built up to meet demand without interruption. It is still unclear how soon this will be.
Bureaucrats dawdle, patients languish
GB Sciences is currently cultivating in a temporary "pod" at the LSU AgCenter before it moves into its larger permanent facility elsewhere in Baton Rouge—and this is being held up by the state bureaucracy, The company and the AgCenter last week sent a joint letter to the LDAF with what it called "a more complete accounting" of its effort to win final approval to began operations at the main facility.
The Monroe-based News-Star writes that the letter signals how GB Sciences, which has invested more than $8 million in the Louisiana program, is growing increasingly frustrated with the LDAF and its commissioner Mike Strain—who must sign off on a "suitability" background investigation conducted by the Louisiana State Police before the main facility opens.
The News-Star quoted Strain's denial that he is road-blocking the program. "The bottom line is they have to submit the information asked for by the State Police that they haven't provided," he said.
LSU AgCenter vice president Bill Richardso responded in a statement: "The Contract with GB Sciences was finalized in September 2017. Since then the LSU AgCenter has worked closely with the Department of Agriculture and Forestry to obtain the necessary approvals for GB Sciences to begin growing therapeutic cannabis in the main facility. The main production facility has passed the final building inspection and the internal standard operating procedures have been approved. We are looking forward to concluding this suitability process so we can provide a steady, uninterrupted supply of medicine for the patients of Louisiana."
The Shreveport Times reports on a public meeting convened by the LDAF in Baton Rouge on Jan. 29, where among those confronting the bureaucrats was Katie Corkern, the citizen who lobbied lawmakers for years in support of a medical marijuana program. She noted that more than 1,300 days have passed since the law was passed in 2015. Her son Connor, who also attended the meeting, was eight years old at the time. Today, he's 12—and she said he has been hospitalized for his seizures 15 times in the intervening years. "We're waiting, and Connor doesn't deserve this," she said. "Neither do the citizens that you all don't get to see."
Municipalities lift pressure
And there isn't much breathing room for cannabis in Louisiana outside of the both very limited and unconscionably delayed medical program: the state has some of the harshest marijuana laws in the country.

Just about a year ago, the first cracks emerged in the Pelican State's prohibitionist edifice as Baton Rouge announced that police and city prosecutors would have the option of treating those caught with cannabis like those caught speeding—with summonses and fines instead of jail time. New Orleans adopted a similar policy in 2016. It was also last February that a state board approved parole for Bernard Noble, the New Orleans man whose 13-year prison term for possessing two joints' worth of cannabis became a cause célèbre for reform advocates.
Cross-post to Cannabis Now
Image from Greenwich Mean Time