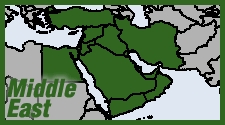 A parliamentary initiative has been launched to legalize medical marijuana cultivation in fabled hashish producer Lebanon, amid growing proposals for a general legalization of cannabis. But many growers in the Bekaa Valley are watching warily, fearing they will be left behind as foreign capital flows in for a legal industry.
Lebanon's parliament is preparing legislation to legalize cultivation of cannabis for medical use in the country which is already one of the world's leading contraband producers.
The news broke in comments made by parliament speaker Nabih Berri to the US ambassador in Beirut, Elizabeth Richard, reported by the state-run National News Agency July 18.
Parliamentarian Antoine Habchi is leading the effort, and introduced legislation days after Berri's statement. He is explicitly portraying the proposal as means to help farmers in the hashish-producing Bekaa Valley.
"I want to find a solution for what's going on," Habchi told reporters. The aim is to "allow farmers to live with dignity.".
The move comes after an economic recovery plan for Lebanon's insolvent national government, drawn up by consulting firm McKinsey & Company, recommended legalizing cannabis cultivation.

Trepidation in the Bekaa Valley
Despite Habchi's assurances, some growers in the Bekka Valley are suspicious of the proposal, fearing that a legal market could slash their profits. Contraband hashish has been the economic mainstay of the Bekka for generations, and the trade especially boomed during Lebanon's 1975-1990 civil war, when militias throve on a circular dope-for-guns traffic.

"All these red-shingled houses around us have been built with marijuana money," one anonymous local grower in the Bekka Valley town of Yammouneh told a reporter from AFP news wire.
AFP also spoke to the deputy mayor of Yammouneh, Hussein Shreif, who said: "We don't have a problem with legalization, but the primary beneficiary must be the grower."

Shreif said growers prefer the current "free market" system because they can sell to "big traffickers to make 10 times more money... If the state gets involved, the profit won't be the same."

Authorities have tried fruitlessly to supress the Bekka hashish industry ever since the end of the civil war. Security forces have destroyed thousands of acres of cannabis fields in the Bekka over the years, but the trade always comes back. UN-backed programs have sought to convince growers to convert their cannabis fields into vineyards—to scant success. Growers maintain that no crop other than their hearty sativas can thrive in the arid bioregion of the Bekaa.
One fear is clearly that corporate greenhouse operations in Lebanon's urbanized coastal zone could squeeze out the marginalized inland Bekaa. "If cannabis production must become legal, it should at least be limited to areas it's currently growing in," Jamal Shreif, another local official in Yammouneh, told AFP.
Deputy mayor Shreif also said the Bekaa's farmers are also demanding that any legalization measure must include an "amnesty" for the more than 30,000 people wanted on hashish-related charges. Militarization of the Bekka in the name of drug enforcement continues to be an urgently pressing issue. Just four days after Speaker Berri made his announcement, a Lebanese army raid on the home of a suspected hashish producer in the Bekaa town of Brital left eight residents dead.

The most cynical view of the new proposal was voiced by Louis Hobeika, an economist at Lebanon's Notre-Dame University. Speaking to pan-Arab news service Asharq Al Awsat, he darkly predicted that cannabis profits won't go either to struggling farmers or government coffers but will disappear into the entrenched corruption networks that pervade Lebanon's bureaucracy and ruling elite. "This is a move that aims to finance the political mafia in Lebanon," he said.

Clearly, it will be critical to watch as the legislative process unfolds over the coming months to see if legal cannabis cultivation will come to Lebanon with a sense of equity.

Cross-post to Cannabis Now