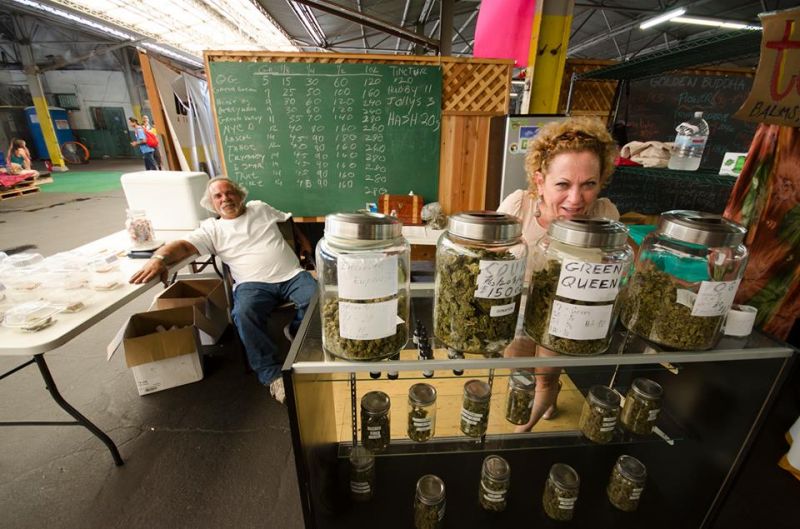 Los Angeles' first-ever marijuana farmers market was ordered closed by an LA Superior Court judge July 15 after City Attorney Mike Feuer asked for a restraining order against the California Heritage Market. Over the weekend of July 4, the California Heritage Market, a marijuana collective, or dispensary as it is known to the "compassionate care" crowd, opened a warehouse for cannabis cultivators to peddle their products in an open-air atmosphere. Thousands waited for hours to wade through thick crowds looking for bargains among the 60 or so booths selling dried marijuana flowers, hash, oils, and creams. One bubbly vendor told the cameras that he "couldn't believe how high the demand was."
By the next weekend, the hullaballoo had subsided. One vendor, a nice guy presiding over indoor strains he had grown with his wife, lamented the promoter's lack of advertising. "I paid $3,000 for this booth for the month. He's got to get some people in here. They got to do something. I'm losing money here." A grower from Raccoon Farms was slashing prices after making a nine hour trek with multiple pounds from Humboldt, County, in the Golden State's Emerald Triangle. "I'm not driving home with this stuff." Frustrated, he defied market rules against selling more than two ounces and offered half pounds of any strain for $900. As advertized, his Diesel Peaches smelled like peaches and gas. "It just takes a couple people who are desperate and they sell a whole pound for $900. It costs me $900 per pound to grow it! I can't sell it at $900, or even $1,$100. It just goes down year after year. I was paying my trimmers $175 to $200 a pound. This year I'm going to have to offer $125, maybe $100. No one good is going to work for that. Especially cause I watch them like a hawk."
Overstaffed from the last weekend's success, booths sheltered dreary sales folk, some pleading and desperate to make contact with occasional passers-by. "C'mon over, check out some of our indicas!" "We have some great Green Crack, it's one of my favorites." And so on. In Los Angeles, OG strains reign supreme. Created in the late 1990's by a Santa Cruz breeder named Chem Dawg, OG, or Ocean Grown, has a distinctive narcoleptic buzz and sulphury aroma. Many in LA perceive it to mean Original Gangsta, an effective branding strategy in a town that produced rap icons Snoop Dogg, Tupac Shakur, Ice Cube and Shug Knight. With genetic lineage difficult to trace or verify, many growers simply add the initials to their strains. A grower offered 6 Banana OG seeds for $25. "They're only for outdoor. I've never tried them indoor. They might work." His honest approach is refreshing. "They're fat. I take 'em a couple weeks late to make sure they're nice and big." He offered good advice, recommending one use distilled water to sprout. With a two-ounce limit, out-of-the- way location and prices similar to dispensaries in the Valley and downtown, the LA pot farmer's market faces a long road even if the pressure from the authorities is lifted.
Photo: John Veit