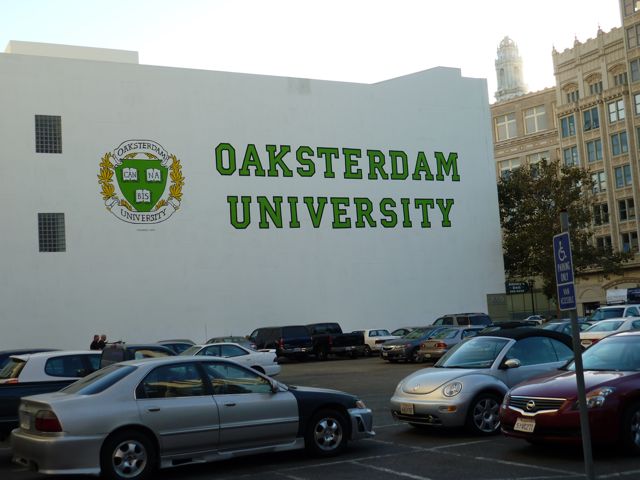 Dozens of federal agents on April 2 raided Oakland's famed Oaksterdam University and the Lake Merritt area apartment of its owner Richard Lee, California's most prominent cannabis advocate. The armed agents, some wearing face masks, came to the locations with a battering ram, sledgehammer and power saws. Agents from the DEA, IRS and Marshals Service carted away loads of cannabis as well as numerous file boxes, did but not reveal the purpose of the raids, other than to call it part of an "ongoing investigation."
Also raided were three affiliated sites: the former dispensary location of Coffeeshop Blue Sky; the new site of the dispensary at the Oaksterdam Museum; and the Oaksterdam Gift Shop. Some 100 activists gathered outside the locations, heckling the agents, and shouting "Shame!" and "DEA, go away!"
"Clearly, they're trying to knock down one of the leaders in the cannabis reform movement," said Dale Sky Jones, executive chancellor of Oaksterdam University. "This is really an attack on regulation," she added, noting that without regulation, "what's going to change is who is selling it, the good guys or the bad guys."
Joe Elford, chief counsel for the advocacy group Americans for Safe Access, had stronger words: "For them to go after someone who's as high profile as Richard Lee likely sends a message that they will go after anyone anywhere in the state over medical marijuana and that Obama's promises are hollow." (East Bay Express, April 4; San Francisco Chronicle, LAT, April 3; NBC Bay Area, April 2)
Photo by Global Ganja Report