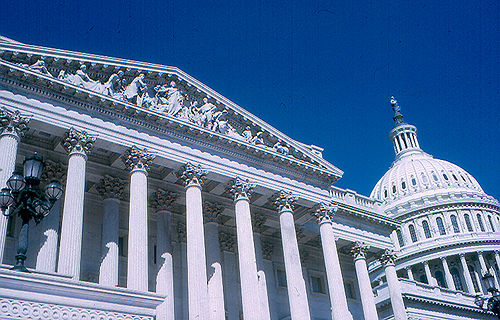 Having cannabis removed from the federal list of controlled substances has long been the holy grail of legalization advocates. Several bills have now been introduced on Capitol Hill to do exactly that. Do any stand a chance of becoming law in the current polarized climate?
It is certainly a paradox—and a testament to the schizophrenic nature of this political moment in America. But with the arch-reactionary Donald Trump in the White House, the actual de-scheduling of cannabis has never been closer. That is, removing it from the list of "schedules" established by the 1970 Controlled Substances Act, and legalizing it from coast to coast. Multiple bills to do this are now before Congress. But what are their chances in this harshly divided atmosphere?

What states have legal cannabis? What states have medical marijuana?
For starters, the feds have in practice mostly left cannabis enforcement to the states, wth their own laws. And many states have now either generally legalized cannabis or legalized its use for medicinal purposes. Since Colorado and Washington led the way in 2012, a total of 11 states have now legalized for what is called the "adult use" or "recreational" market. Most have done so by popular referendum, but two—Vermont and Illinois—by acts of the state legislature.

With medical marijuana it's a little complicated. The short answer is that since California led the way in 1996, a total of 33 states have passed medical marijuana laws (of widely varying degrees of leniency) either by legislation or referendum. But some of these states, including New York and Minnesota, only allow use of extracts—not actual herbaceous cannabis. And several other states have CBD-only laws—allowing use of cannabidiol but not its psychoactive counterpart cannabinoid, THC.

So there is some ambiguity on what exactly constitutes a medical marijuana law.

In any case, none of these laws abrogate the federal Controlled Substances Act. Interstate and international trafficking is still policed by the Drug Enforcement Administration (DEA), and federal law still poses myriad obstacles to normalization of even state-legal cannabis businesses. A legal interstate commerce in cannabis, as has now been called for by state law in Oregon and at least broached by the governors of New York and Connecticut, will not be possible until federal law changes.
What legalization measure are now before Congress?

Cannabis remains a Schedule 1 substance under the 1970 Controlled Substances Act—the most restrictive category, absurdly shared with heroin. Among the several pending measures in Congress to change that are some that failed to pass last year but were re-introduced in 2019.

The Marijuana Justice Act was introduced in the House by Rep. Barbara Lee (D-CA) and in the Senate by Cory Booker (D-NJ). It has won support from Rep. Carolyn Maloney (D-NY) of the Congressional Cannabis Caucus, which was established in 2017. In addition to descheduling, the bill would expunge all federal convictions for possessing or using cannabis.

Also introduced early this year by Rep. Earl Blumenauer (D-OR), co-chair of the Cannabis Caucus, was the Regulate Marijuana Like Alcohol Act, wryly dubbed HR 420. Under this bill, responsibility for regulating cannabis would be switched from the Drug Enforcement Administration to the Bureau of Alcohol, Tobacco, Firearms and Explosives (ATF).

Senate Minority Leader Chuck Schumer also reintroduced his Marijuana Freedom & Opportunity Act this spring. A somewhat more cautious bill, it would also deschedule cannabis, but would reserve federal power to prevent "trafficking" to states that have not legalized—leaving a cannabis enforcement role for the DEA.
Also reintroduced in the spring was the Strengthening the Tenth Amendment Through Entrusting States (STATES) Act, which had been first introduced last year by Senators Elizabeth Warren (D-MA) and Cory Gardner (R-CO). A still less ambitious piece of legislation, it would create an exemption from the Controlled Substances Act for states that have legalized without actually descheduling. The STATES Act would also apply to Native American reservations, and would bar federal forfeiture of any assets derived from state-legal cannabis enterprises.

In July, Rep. Jarrold Nadler (D-NY) and presidential candidate Kamala Harris (D-CA) introduced the Marijuana Opportunity Reinvestment & Expungement (MORE) Act, which legalization advocacy group NORML calls "arguably the most revolutionary and socially conscious federal marijuana reform bill introduced to date." In addition to descheduling and expunging prior convictions, the MORE Act would establish social equity programs for cannabis entrepreneurs, with a focus on those communities that have been most adversely impacted by cannabis prohibition.

In a Capitol Hill hearing this July that advocates hailed as "historic," numerous Congress members openly embraced lifting the federal strictures on cannabis—and even descheduling. The discussion was particularly framed in terms of recognizing and correcting the racial and social iniquities of cannabis prohibition and the "war on drugs."
What's the status of the SAFE Banking Act?

Having actually passed the House in late September, by a vote of 321 to 103, is the Secure & Fair Enforcement (SAFE) Banking Act. This legislation would reform banking regulations affecting institutions that handle cannabis-related accounts, basically allowing cannabis businesses operating in conformity with state law to access financial services. It got a big boost in May, when a group of attorneys general from 38 states and territories penned an open letter urging Congress to pass the bill.
What are the odds for passage in the Senate?

Republicans in the House were narrowly divided in their vote on the SAFE Banking Act—so this may bode well for its chances in the Senate. It may also be an encouraging sign for passage of one of the above-mentioned legalization bills. Getting a legalization bill through the Republican-controlled Senate will obviously pose a far greater challenge than the (daunting enough) prospsect of passage by the Democratic-controlled House. The Republican commitment to "states' rights" (however ironic) served some GOP lawmakers to support the SAFE Banking Act. The libertarian streak in the Republican Party could, conceivably, move enough votes in the Senate to get a legalization measure over the top—despite the intransigent attitude of the Trump White House. Which of course raises the prospect of a presidential veto, and the greater challenge still of mustering enough votes to override it.

In short, we may be closer to federal legalization than ever before. But there's a lot of hurdles to get past before you light up a celebratory joint.
What other cannabis-related legislation is pending?
We saw another sign of hope in June, when the House approved legislation that could significantly lift the federal pressure on cannabis. Building on longstanding policy that bars federal cannabis enforcement in medical marijuana states, the House passed a measure that would instate a similar hands-off approach to enforcement in states that have generally legalized. The measure came as a rider to an appropriations bill, sponsored by representatives Earl Blumenauer (D-OR), Tom McClintock (R-CA) and Eleanor Holmes Norton (D-DC). (Federal cannabis enforcement in medical marijuana states has been effectively restrained since passage of the Rohrabacher Amendment in 2014.)

Also in June, the House passed a measure pushed by Rep. Alexandria Ocasio-Cortez (D-NY) that would cut some funding to the DEA and transfer the money into opioid treatment programs.

Legislation introduced in the House in March would protect the jobs of federal employees who use cannabis in states where their use is legal. The Fairness in Federal Drug Testing Under State Laws Act would prohibit testing for cannabis "from being used as the sole factor to deny or terminate federal employment for civilian positions at executive branch agencies if the individual is in compliance with the marijuana laws in their state of residence."

Sen. Booker last year introduced legislation that would eliminate drug convictions as a bar to federal financial aid. At issue is the document formally known as the Free Application for Federal Student Aid (FAFSA), which includes the following text: "Have you been convicted for the possession or sale of illegal drugs for an offense that occurred while you were receiving federal student aid (such as grants, work-study, or loans)?" That bill, which would remove the offending text from FAFSA, has also been reintroduced this year.
Cross-post to Cannabis Now
Graphic: DRCNet