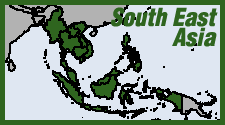 Singapore just executed a man for cannabis—and for just one kilo. Even worse, the trial appears not to have even met basic standards for fairness. This outrage comes just as neighboring Malaysia is finally following through on pledges to limit use of the death penalty—five years after a global outcry when a compassionate care provider was sentenced to be hanged for supplying cannabis oil. Despite the quasi-decriminalization in Thailand, Southeast Asia remains one of the most repressive regions on earth where the herb is concerned.
The Southeast Asian city-state of Singapore has a reputation for puritanical intolerance as well as its paradoxical cosmopolitanism. An egregious example made at least brief world headlines last week—when a man was put to death on a cannabis charge.

Hanged for a kilo —that he never touched
Tangaraju Suppiah, 46, was hanged April 26 at the island nation's Changi prison—over the protests of local and international human rights groups. They charged that the case against Suppiah was legally irregular, on top of the absurdly extreme punishment.

For starters, not only was the quantity in question little over a single kilogram—but it wasn't even found on his person. Suppiah was charged with "conspiracy to traffic" the shipment in from neighboring Malaysia after two phone numbers used by a deliveryman were traced to him. Convicted in 2013, he was sentenced to death in 2018.

Next, Suppiah was part of Singapore's Indian minority, and rights groups monitoring the case say he was denied adequate access to an interpreter to his native Tamil language. (Official proceedings in Singapore are generally in English.) And he was also denied adequate counsel—he had to represent himself on his final appeal, as his family was unable to afford a lawyer. The appeal was not successful.
The Transformative Justice Collective, a Singaporean anti-death penalty group, said there were "serious problems" with the evidence used to convict Tangaraju, characterizing it as "shockingly thin."

Singapore's Misuse of Drugs Act mandates the death penalty if the amount of cannabis in question is more than 500 grams. Using the predictably jaundiced language, the Ministry of Home Affairs said that the amount Suppiah was convicted for was "sufficient to feed the addiction of about 150 abusers for a week." Convicted traffickers who can prove that they were only couriers may be able to avoid hanging—but Suppiah had no such luck.

On the eve of the execution, Suppiah's family issued a desperate plea for clemency on social media, calling on the public to pressure President Halimah Yacob to intervene in the case. "My uncle is a very good man, he didn't have education or money but he worked very hard to look after us," said his niece.

The UN Human Rights Office called for Singapore to "urgently reconsider" the execution. And British business tycoon Richard Branson blogged on his company's website: "Killing people for allegedly smuggling cannabis is particularly cruel and misguided, given that more countries are now introducing sensible drug policy by decriminalizing and regulating both medicinal and recreational cannabis."

Lecturing from a scion of former colonial power Britain was of course met with facile dismissal. The Ministry of Home Affairs responded that Branson's comments showed "disrespect" for Singapore's justice system.

Suppiah's execution was the first to be carried out by Singapore this year. But 2022 saw 11 hangings in the city-state. Among those executed last year was another cannabis defendant, Omar Yacob Bamadhaj—similarly charged with bringing in about a kilo from Malaysia. His final appeal was turned down by the country's Apex Court in October 2021—again prompting a flurry of scolding from human rights groups. Reggae star Ziggy Marley also spoke out for Bamadhaj—to no avail.
Singapore is one of 35 countries and territories around the world that sentence people to death for drug convictions, according to
a study
by UK-based
Harm Reduction International
.
Tentative progress in Malaysia —at last

Singapore's neighbor Malaysia is also one of those 35 countries—and is just now seeing some small progress toward correcting this injustice. On April 11, Malaysia's Parliament passed two bills reforming death penalty sentencing, and abolishing mandatory death penalties.
This is actually a long-delayed response to the global activist outcry in October 2018, when a Malaysian man was sentenced to death for providing medical cannabis oil to epileptics and cancer patients. Malaysia's government actually responded to the international protests by
pledging to abolish
the death penalty.
But the brief media spotlight moved on, and more than four years passed with no legislative action.
In February 2021, at least, the hash-oil producer, Muhammad Lukman, formally
escaped the gallows
after the Federal Court allowed his appeal of the death sentence. However, the court confirmed his guilt under Malaysia's harsh Dangerous Drugs Act, and sentenced him to five years on each of two counts of possession. The terms were to run concurrently, meaning he still faced five years behind bars. Fortunately, the following month he reached a deal with judicial authorities under which his charge was reduced from trafficking to possession. With credit for time served on the lesser charge, he was released—but not before being subjected to the humiliating corporal punishment imposed in such cases: a caning. He walked free in physical pain and bruised from 10 strokes of a cane.
It was only in March 2023 that Malaysia's Parliament
began consideration
of the death penalty reform bills. And the legislation stopped well short of the government's initial pledge to abolish the death penalty. Instead, it abolishes the
mandatory
death penalty.
The Abolition of Mandatory Death Penalty Bill removes the mandatory death sentence for the 12 offenses that carried it. Judges will still have the option of imposing a death sentence in these cases. It also adds an additional requirement of caning for those given life imprisonment instead of the death penalty.
The Revision of Sentence of Death & Imprisonment for Natural Life would allow prisoners sentenced to hanging or life imprisonment to apply for resentencing by the Federal Court within 90 days of the law taking effect.
The caning provision was of course protested by rights groups.
Amnesty International Malaysia
's director Katrina Jorene Maliamauv said that caning "constitutes cruel, inhuman and degrading treatment or punishment, and as such is prohibited under international law."
When the two bills were
approved by Parliament
last month, rights groups were only cautiously optimistic.
Human Rights Watch pointed out
that the mandatory death penalty had been removed for drug charges in a
similar reform
in November 2017. But it had little impact: 34 of 38 defendants were still sentenced to death for drug trafficking over the ensuing year and a half, with judges exercising their discretion to impose life imprisonment in only four cases. (Among the 34 was Mohammad Lukman.)
Despite the pledges made in 2018, the new law retains the death penalty for drug trafficking charges. And more than half Malaysia's death row inmates are charged with drug-related offenses.
"The abolition of the mandatory death penalty brings Malaysia closer to the majority of countries that have eliminated capital punishment altogether," said Elaine Pearson, Asia director at Human Rights Watch. "Malaysia's next step should be ending its use of the punishment entirely and commuting the sentences of the 1,300 prisoners sitting on death row."
In Southeast Asia, Cambodia and the Philippines are the only countries to have abolished capital punishment altogether. It remains in place in Thailand—even as the kingdom
embraces a cannabis economy
, slowly opening legal space for the herb.
Activist pressure mounting
The good news is that in response to the Mohammad Lukman controversy in 2018, Malaysia declared a moratorium on executions while the government considered policy changes. This moratorium remains in place, and Malaysia has carried out no executions over the past four years.
As limited as the progress in Malaysia is, it does point to efficacy of activist pressure—even in the most conservative and repressive of nominal democracies.
And even Singapore is seeing increasingly vocal civil opposition to the anti-drug police state. A year ago,
the hanging
of Nagaenthran Dharmalingam, a mentally disabled man caught with 43 grams of heroin,
prompted rare public protests
in the authoritarian city-state. Photos in the media showed young people gathered at a park holding hand-written signs with slogans such as "NO MORE STATE VIOLENCE" and "DON'T KILL IN OUR NAME."
Cross-post to Cannabis Now