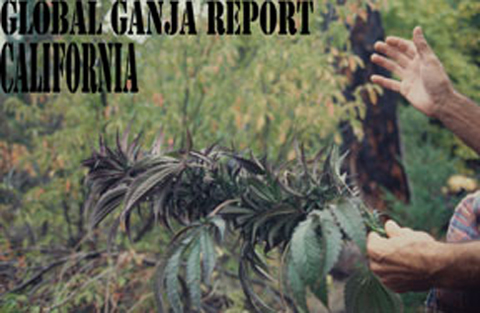 A May 5 report in the Sacramento Bee portrays an Emerald Triangle hard-hit by the federal crackdown on medical marijuana in California. Cultivators who sought legitimacy through the medical market are fleeing to the black market, leading to a glut—which is now ironically hurting the remnant medicinal market. With cheap weed getting dumped in the college town of Arcata, some local dispensaries say business is down 75%. The price of top-line bud has dropped from around $5,000 to under $1,000. "Last I heard, a pound of marijuana is $800 for outdoor grown," gloated Mendocino County Sheriff Tom Allman. "That's plummeting. You might do better with tomatoes."
Trimmers who a year ago were earning $200 a pound are now making half that. One veteran trimmer complained to the Bee that some growers are even trying to pay in bud. "I got paid in weed," the 47-year-old man who gave his name as "Mover" said of his last trimming job. "It's worthless here. You can't give it away. And I'm not going to transport anything. I'm too old, and I don't want to go to jail."
The account sites as a turning point the closure of the Mendocino County medical marijuana program in January, which followed a DEA raid on a county-licensed indoor grow facility attached to a dispensary. Humboldt County had been seeking to put a similar program in place last year, with District Attorney Paul Gallegos calling for licenses to ensure "sustainable and responsible cultivation." But after the federal government launched its crackdown, Humboldt supervisors tabled work on the plan. The Humboldt cities of Eureka and Arcata have since placed moratoriums on new dispensaries.
Alison Sterling Nichols, director of the Emerald Growers Association which backs state legislation to regulate medical marijuana, said outdoor growers are most affected by the collapse of local licensing programs. "People shouldn't have to sleep with one eye open," she said. "People should be able to move from the black market into the light... We have hills of healthy outdoor product we can't take to the market."
Meanwhile, law enforcement fears Emerald Triangle product is being more aggressively shipped out of state for the national black market. In April, authorities in Pennsylvania arrested the former operator of a Humboldt dispensary for allegedly shipping more than 25 pounds in heat-sealed packets to a home he was visiting. State police in Nebraska also stopped a Mendocino County man and a companion with 62 pounds stuffed in duffel bags.
On consecutive days in late February, Humboldt authorities conducted two separate raids on growers suspected of criminal distribution, seizing nearly $700,000 in cash and 7,000 plants. In Mendocino, Sheriff Allman said his officers last year eradicated 642,000 plants, some "loosely tied" to Mexican trafficking networks (in the Bee's paraphrase) but most involving Californians or residents from other states who secretly grew on public lands and private property. With a federal crackdown and a shrinking market, Allman said, many out-of-towners may leave and "everything is going to go underground."
Graphic by Global Ganja Report