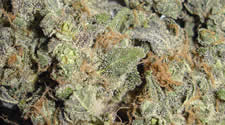 Cannabis use among teens is rising, despite declines in smoking and alcohol use, according to new findings of the Monitoring the Future survey, conducted by the University of Michigan for the National Institute on Drug Abuse. The study reports that one in every 15 high school seniors said they used marijuana almost every day, the highest rate since 1981. And the Drug Czar is blaming the medical marijuana movement.
R. Gil Kerlikowske, director of the White House Office of National Drug Control Policy, pointed out the rise in pot use coincides with the growing number of states to legalizie medical marijuana. "We know that any substance that is legally available is more widely used," he told the Los Angeles Times. He told the New York Times: "These last couple years, the amount of attention that's been given to medical marijuana has been huge. And when I've done focus groups with high school students in states where medical marijuana is legal, they say, 'Well, if its called medicine and it's given to patients by caregivers, then that's really the wrong message for us as high school students.'" (MLive.com, Dec. 16)
That quote smells apocryphal. We have also pointed out that the rise in youth cannabis use is concomitant with a decline in cocaine and methamphetamine use as well as tobacco and alcohol. So while we don't condone cannabis use by minors—on balance, this new development appears to be an improvement in the situation.
Photo: Themadpothead