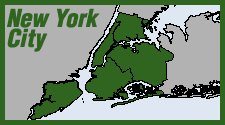 In a dramatic early morning raid June 4, some 400 NYPD cops wearing bullet-proof vests stormed the Manhattanville and Grant housing projects in Harlem, arresting scores in what was boasted as the largest gang case in New York City history. In what was dubbed Operation Crew Cut Initiative, police commissioner William Bratton announced 103 indictments of accused members of the Make It Happen Boys, Money Avenue and 3 Staccs gangs. Charges in the 145-count indictment include conspiracy to commit murder, conspiracy to commit gang assault, and weapons possession. Of those indicted, 41 were already in jail on other charges. The three warring crews are held responsible for at least two homicides and 19 shootings in and around the housing projects in recent years. The suspects are all between 15 and 30 years old. "If you choose this lifestyle, you will suffer the same fate as these individuals," Bratton said at a news conference later in the day. (Daily News, WABC, Newsday, June 4)
But while many residents of the projects were relieved to see a decisive blow against the gangs that had been terrorizing them, some also expressed outrage at police overreach. Resident Katherine Fort told DNAInfo New York that police entered her apartment during the raid looking for her 20-year-old son, Isaac Waterman, who was among those charged with conspiracy for his alleged involvement with the Make it Happen Boys. According to the indictment, Waterman used Facebook to try to buy a gun and bullets, posted messages about the Make it Happen Boys, and, in November 2012, was seen with a loaded revolver in a building lobby. If found guilty, he faces several years in prison. But Fort said she thought her son's troubles were behind him after a previous scrape with the law. He was participating in a mentoring program with the city's probation department and didn't hang out with his old friends anymore. "He wasn't in a gang," said Fort, a postal worker. "Why should my son go to jail for years because he posted some messages on Facebook?"
The Stop Mass Incarceration Network, an advocacy group, protested the sweep as an extension of policies that disproportionately imprison young Black and Latino men rather than providing resources to help them overcome the temptation to get involved with gangs. Iesha Sekou, founder of Street Corner Resources, who works with youth at risk of gang activity, told DNAInfo she is concerned about "overzealousness" in prosecuting the cases. "There are a good number of young people caught up in this that I've heard police refer to as 'collateral damage,'" Sekou said. "We applaud the takedown and want to see an end to the violence and the guns being sold, but we also have to be careful to make sure young people are not unnecessarily thrown into the criminal justice system."
Cross-post to High Times