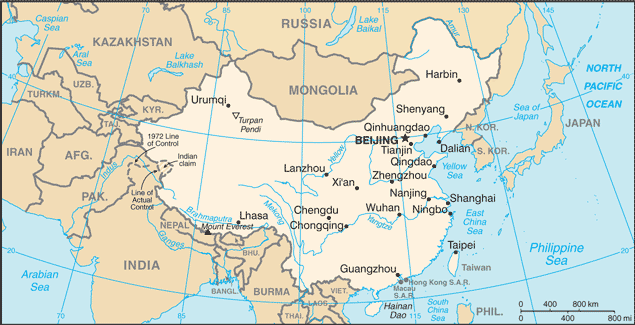 China's ambition to get in on the "cannabis boom," providing hemp for the global CBD market, is now making international headlines. But marijuana is more harshly proscribed in China than just about any other country in the world, and the People's Republic continues to execute thousands every year for drug crimes.
China's arrival in the global cannabis industry became official this week, winning a headline in America's "newspaper of record."

"China Cashes in on Cannabis Boom," read the May 4 headline in the New York Times. "China has made your iPhone, your Nikes and, chances are, the lights on your Christmas tree. Now, it wants to grow your cannabis."

The southern province of Yunnan and the northern province of Heilongjiang are especially named as "quietly leading a boom in cultivating cannabis to produce cannabidiol, or CBD, the nonintoxicating compound that has become a consumer health and beauty craze in the United States and beyond."

Yet, in a strange contradiction, they are doing so even though CBD has not been authorized for consumption within China, "a country with some of the strictest drug-enforcement policies in the world."

Yunnan as global cultivation center
Quoted is Tan Xin, chairman of Hanma Investment Group, which in 2017 became the first company to receive permission to extract CBD at its facility in a Yunnan "restricted zone," next to a weapons manufacturer. The hemp comes from Shanchong, a rural village west of Kunming, Yunnan's capital. Here Hanma's subsidiary Hempsoul has 1,600 acres under cultivation. Tan boasts of the "huge potential" for his enterprise.

Hanma has global ambitions, having acquired a CBD extraction plant in Las Vegas, with plans for second one in Canada—all using Yunnan hemp.

The report noted that China has cultivated cannabis for thousands of years. The Divine Farmer's Classic of Materia Medica, a 2,000-year-old pharmacopeia, commented on the curative properties of the plant. Yang Ming, a scholar with the Yunnan Academy of Agricultural Science, is quoted on the use of hemp seed in traditional folk medicine in the region even today—particularly to treat constipation.

But the People's Republic has taken a hard line on illegal drugs, and cannabis cultivation was effectively repressed after its founding in 1949. After China signed the UN Convention on Psychotropic Substances in 1985, this ban was extended even to industrial hemp, long an agricultural mainstay in Yunnan. The prohibition on industrial hemp was only lifted in 2010—initially to make uniforms for the People's Liberation Army.

At a press conference in Beijing last month, Liu Yuejin, deputy director of the National Narcotics Control Commission, said that in response to international moves toward legalization, China's authorities would "more strictly strengthen the supervision of industrial cannabis." The stringent security and surveillance measures at the Hempsoul facility are described. The company is one of four in Yunnan that have received license to process hemp for CBD.
Others are about to get on board. Preparing to launch operatins in Yunnan are Conba Group, a pharmaceutical company based in Zhejiang province, and Huaren Pharmaceutical, based in Qingdao, Shandong province. Jilin province, bordering Heilongjiang on the south, is also about to begin hemp cultivation.

More provinces get on board
China's own state-controlled media are also hyping the anticipated boom China Daily reports that the Jilin Academy of Agricultural Sciences has signed a Industrial Hemp Cooperation Research Agreement with the Dutch company Fytagoras BV. The report notes that legalization of hemp cultivation has actually taken place at the provincial level, with Yunnan leading the way in 2010, followed by Heilongjiang in 2017. Jilin will now make a third.

However, a 1999 report from Yunnan by researcher Robert C. Clarke of the Netherlands-based International Hemp Association indicates that even then hemp was widely grown on an informal basis in the province—and the mountain town of Dali even gained a reputation as a haven for marijuana smokers.
This July, the Heilongjiang Academy of Agricultural Sciences is to host the first China International Hemp Industry Forum in that province's northern city of Harbin, billed as "high level networking opportunity for professionals worldwide in CBD and Hemp industry."

But if space is rapidly opening for hemp cultivation and CBD extraction in China, space for actual marijuana use has only closed since the more relaxed atmosphere of 20 years ago. Under President Xi Jinping, China is becoming in many ways a more rigid place—and tolerance of illegal drugs is certainly no exception.

China's executions unabated —bucking global trend
In its recently released annual review of global use of the death penalty, Amnesty International actually has some good news to report. After several years of rising, worldwide "known executions" actually dropped by over 30% in 2018. But there's a catch. The term "known executions" is used because no figures are available from China—believed to be far and away the world's greatest executioner.

States Amnesty: "As in previous years, the global totals do not include the thousands of executions that Amnesty International believed were carried out in China, where data on capital punishment is classified as a state secret."

In 2009, Amnesty stopped publishing its estimated figures for executions carried out in China, calling on the Chinese authorities to actually release the real numbers.
And many of these literally untold numbers of executions are for illegal drugs. Amnesty notes that in several countries the death penalty was used last year "for crimes that did not involve intentional killing, and therefore did not meet the threshold of 'most serious crimes' under international law." At least 96 executions were known to have been carried out for drug offenses in four countries: 60 in Saudi Arabia, 25 in Iran, 11 in Singapore—and again, no figure given for China, with its unknown number of such executions not even factored into the total.

Whatever that number is—hundreds, or possibly thousands—it almost certainly includes executions for cannabis. As we have noted, the quantities sufficient to land you before a firing squad in China are 10 kilograms of resin (hashish) or 150 kilograms of herbaceous cannabis (marijuana). But when it comes to trafficking rather than simple possession, judges appear to have discretion to impose the death penalty even for considerably smaller quantities,

Sensi Seeds website, in a report on cannabis China, notes that a Nigerian national was sentenced to death in 2009 for selling just six kilograms to local dealers in Guangdong. More perversely still, the UK's Daily Mail reported last November on the case of an American college student, Matthew Fellows, who was sentenced to death by a court in Nanjing merely for passing a joint—technically "trafficking." Fortunately, after eight months in jail, he was released and sent back home to Maryland after the conviction was reversed in light of evidence that he was framed by a jealous love interest.

But anonymous thousands go the firing squad for nonviolent offenses each year. Recent months have seen grisly spectacles of drug convicts sentenced to death before hundreds of assembled viewers in stadiums. Most of these convictions appear to have been for methamphetamine.

Donald Trump applauds execution state —surprise!

Perhaps not surprisingly, one enthusiast for Beijing's execution state is Donald Trump. Speaking April 24 at the
National Rx Drug Abuse & Heroin Summit
in Atlanta, Trump praised China for meting out the death penalty for opioids like fentanyl. "In China, unlike in our country, the highest level of crime is very, very high," he said according to
C-SPAN
. "You pay the ultimate price. So I appreciate that very much."

Actually, you can also get the death penalty for drug offenses in the US—including for trafficking 60 kilograms of heroin or 60,000 kilos of marijuana.

But if corporate control of cannabis contrasted with a continued anti-drug police state for the commoners is seen in many places around the world, it is hard to believe this trend is anywhere more advanced than in China.

Cross-post to Cannabis Now
Graphic: Perry-Castañeda Library Map Collection