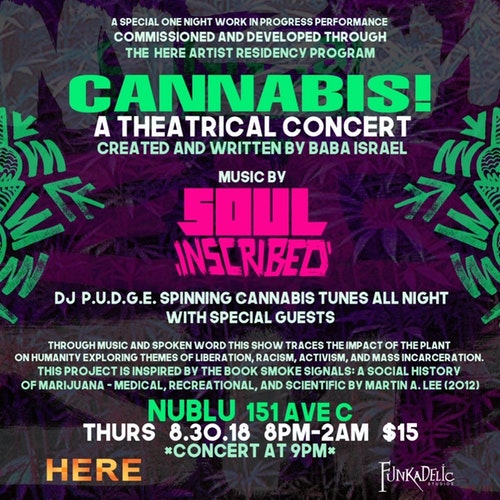 What will ultimately be a multimedia extravaganza on the history, culture and politics of the cannabis plant is currently under production in New York City. The music for Cannabis! A Theatrical Concert was just unveiled for New York audiences in a special performance at a nightspot on Manhattan's Lower East Side.

"We're excited to be bringing this music to our home turf," says Baba Israel, main visionary and lead rapper in what will be a stage production dedicated to cannabis, speaking of his outfit's first New York City performance of the music for the show—to be dubbed Cannabis! A Theatrical Concert.
This took place the night of Aug. 30 at Nublu, a nightclub in the once-edgy Alphabet City area of the Lower East Side. Israel and his collaborators have a residency at HERE, the same Lower Manhattan theater that was an incubator for The Vagina Monologues and groundbreaking performance artist Taylor Mac. Israel anticipates that his effort will culiminate in a three-week run at HERE's Soho theater in 2020.

"We're starting with the music," Israel says. "We envision an immersive multimedia production with dancers, and the audience up on their feet. Now we're focusing on the poetry and spoken-word aspect." Songs developed for the production were also performed onstage at Seattle's Hempfest last year by Israel's hip-hop/fusion outfit, Soul Inscribed.

Cannabis! will actually be a musical and theatrical adaptation of the book Smoke Signals: A Social History of Marijuana—Medical, Recreational and Scientific by Martin A. Lee, a comprehensive work released by Scribner in 2012. Before the performance at Hempfest last year, Israel and his crew first debuted their material at Emerald Pharms, the solar-powered cannabis dispensary in California's Mendocino County that Lee is involved in. The raps and songs delivered by Israel and his Soul Inscribed cohorts follow the narrative of cannabis culture and its evolution provided by Lee's book.

Israel starts off rapping about the herb's use by shamans and Sufis in the Old World, then follows it across the Atlantic, brought by enslaved Africans through the Middle Passage to the plantations of Brazil. From there it makes its way up to Mexico, and thence into the United States, picked up by the jazz vipers, beatniks and ultimately hippies—who spread it around the world with the rest of the counterculture zeitgeist. These transitions are each illustrated by period songs, including Louis Armstrong's cover of "La Cucaracha," the marijuana-glorifying anthem of the Mexican Revolution, Ella Fitzgerald's "When I Get Low I Get High," the Beatles' "(I Get High) With a Little Help from My Friends," Bob Dylan's "Rainy Day Women" (with its refrain of "Everybody must get stoned"), and Bob Marley's "Kaya."
"We're honoring the spirit of the songs, but remaking them to tell this story of how the plant has intersected with cultural movements," Israel explains. "We're also taking text from Martin's book and turning it into rap."

Among the original songs developed by Israel and his collaborators are homages to Dennis Peron and Brownie Mary (Mary Jane Rathbun), two legendary figures who made cannabis available to the ailing during the AIDS crisis in San Francisco in the 1990s—a period that really spawned the current worldwide push for legalization.
"We're at a tipping point with cannabis right now," Israel says. "But regressive forces are still at the helm. There's a danger that as cannabis becomes a mainstream product and is commercialized, its connection to activism and diverse communities—in terms of race, class, sexuality—will be eclipsed. We have to push for a concept of legalization as undoing some of the damage of the war on drugs. Mass incarceration persists even today—it's not a resolved issue."

He hopes that his theatrical production will ultimately be a "platform for activism."
In addition to Baba Israel, emcee and main producer, Soul Inscribed consists of Grace Galu and Duv on vocals, Sean Nowell on saxophone and flute, Doron Lev on percussion, and Yako 440 on guitar and bass.

Cross-post to Cannabis Now


Image via HERE