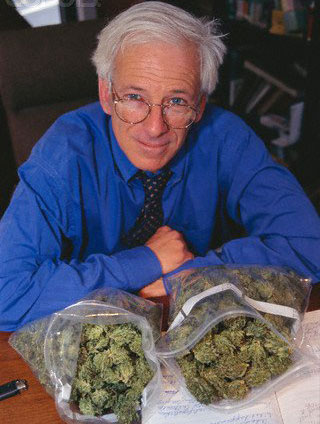 Longtime California cannabis crusader Dennis Peron, who probably did more than any other one human being to bring about legalization of medical marijuana, died Jan. 27 at a San Francisco veteran's hospital, following a battle with lung cancer. He was 72. Peron was the prime mover behind San Francisco's Proposition P, the 1991 voter initiative that made the city the first government entity in the US to officially embrace medical marijuana, deprioritizing police enforcement for medicinal users.
Peron followed through by opening the Cannabis Buyers' Club, at a downtown location just off Market Street—the first openly operating medical marijuana dispensary in the country. By 1996, it had 10,000 members and moved into a big storefront right on Market.

That same year he teamed up with California NORML to draft the statewide Prop 215, and campaign for its passage. He did so even while battling criminal charges against him following a raid on the Buyers' Club by state narcotics agents.

Prop 215's victory made California the first state to legalize medical marijuana. This was the first significant crack in the edifice of American cannabis prohibition that has been crumbling ever since.
Bronx-born Peron first experienced cannabis when he served in Vietnam, and arrived in San Francisco after he was discharged in 1967—the heady year of the Summer of Love. He quickly became a prominent figure in the city's (overlapping) gay and cannabis communities. For several years he operated a "Marijuana Supermarket" out of his Castro Street apartment, widely known as the "Big Top"—resulting in several run-ins with the law. In one raid of the Big Top, he was shot in the leg by police.

The AIDS crisis had a sobering effect on Peron. It was the death of his longtime companion Jonathan West to the disease in 1990 that inspired Peron to launch his crusade for medical marijuana.

While remaining a revered figure in the cannabis community, both in California and nationally, Peron was increasingly seen as something of a gadfly in recent years. He won controversy for his opposition to California's new legalization policy, and actually campaigned against Prop 64 in 2016, fearing domination of a legal market by big money.

Peron is survived by his husband John Entwistle.

(See coverage at
Leafly
,
Freedom Leaf
,
SFGate
,
LGBTQ Nation
,
Bay Area Reporter
,
NYT
,
Associated Press
,
O'Shaughnessy's
)

Photo: Dennis Peron publicity shot