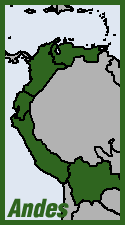 Speaking before a conference of campesina women in Cochabamba July 25, Bolivia's President Evo Morales said he fears a US plot to frame him for drug offense: "Do you know what? I think they have to be preparing something. So much that I'm afraid to go with our airplane to the United States. Surely when we arrive, they can plant something and detain the presidential plane."
Morales reiterated these fears to CNN en Español the following day: "The United States, as a global power, has all the experience of creating setups... They are preparing something to discredit us with drug trafficking." He said agents from the Drug Enforcement Administration had pursued him when he was a union leader, and that US authorities still seek to link him with drug trafficking. "When presidents do not submit to the United States government, to its policies, there are coups," he said.
The US Embassy in La Paz declined to comment on Morales' assertion. But opposition lawmaker Jaime Navarro (Unidad Nacional) weighed in: "The president has to understand that these types of messages are not good, because he who has not done anything wrong has nothing to be afraid of, and when the president shows these fears it makes the population worry and it harms his international image." Navarro recently charged of a growing presence of "narco-sicarios" in Bolivia due to the lax drug enforcement policy of the Morales government.
Bolivia and the US have had diminished relations since September 2008, when each country expelled the other's ambassador. Morales expelled the US Drug Enforcement Administration (DEA) a month later, and accused the agency of complicity in the cocaine trade. (CNN, Opinión, Cochabamba, July 27; CNN, July 26; Hoy Bolivia, July 25)
The British government has meanwhile announced a new counter-narcotic co-operation deal with Bolivia. During a two-day visit to La Paz, the UK's Minister for Latin America, Jeremy Browne, said Britain's Serious Organised Crime Agency will help train Bolivia's counter-narcotics police. "The main purpose of this co-operation will be to provide training on investigative techniques to combat drug smuggling," he said. (BBC News, July 27)