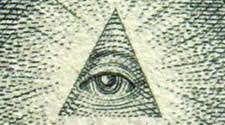 Revolution News notes that the Illinois State Police have been approved by the Federal Aviation Administration to use drones—but are refusing to actually call them drones. In a statement released to Sun-Times Media Wire, the state police department admitted that it is intentionally avoiding the word "drone" because "it carries the perception of pre-programmed or automatic flight patterns and random, indiscriminate collection of images and information." The force will add "unmanned aircraft" to its list of tools for the next two years. The state police said they worked with legal professionals and the American Civil Liberties Union to minimize the privacy impact on average citizens, and needed the drones primarily for "investigation of major traffic crashes."
Two years ago, the Illinois state assembly passed the "Freedom from Drone Surveillance Act," prohibiting use of drones—except by the police, and then only with a warrant. That was also a concession won through ACLU pressure.
A year and a half ago, the Seattle city police force had to abandon plans for a drone surveillance program after a citizen outcry. Laws restricting drone use are pending in several states, and lets hope they will inlcude restrictions on police use. Let's also hope cops aren't able to avoid public scrutiny by playing word games.
Photo by Hammer51012