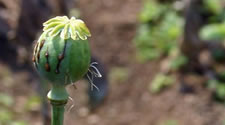 Opium poppy cultivation in Afghanistan rose 7% from 209,000 hectares in 2013 to 224,000 hectares, according to the 2014 Afghanistan Opium Survey (PDF) released Nov. 12 by the Afghan Ministry of Counter Narcotics and the United Nations Office on Drugs and Crime (UNODC). Opium production may increase 17%, with yields estimated to reach 6,400 tons in 2014 compared to the previous year's total of 5,500 tons. These increases come after record highs were marked in 2013, when cultivation rose 36% and production by almost a half over 2012.
According to the UNODC, Afghanistan produces some 90% of the world's illicit opiates. Average opium yield amounted to 28.7 kilograms per hectare in 2014, 9% up from 2013 when it stood at 26.3 kilograms per hectare. The number of poppy-free provinces remained at 15 with northern Balkh regaining that status, while neighboring Sari Pul lapsed back into production. (See map) The bulk of poppy cultivation—89%—was concentrated in nine southern and western provinces which are also the heartland of the Taliban insurgency. Helmand province remained Afghanistan's leading opium grower, taking 46% of the national total, followed by Kandahar, Farah, and Nangarhar. The only good news is that the number of casualties during the 2014 eradication campaign fell significantly; 13 lives was lost, compared with 143 fatalities in 2013.
UNODC chief Yury Fedotov said: "We cannot afford to see the long-term stability of Afghanistan—and the wider region—derailed by the threat of opiates. What is needed is greater resolve towards addressing narcotics in a serious and tangible manner within the economic, development and security agendas."
But we must ask again: Is the opium boom making Afghanistan unstable, or is the instability leading to the opium boom? The UNODC report comes days after the top international commander in Afghanistan, US Army Gen. John Campbell, said he is assessing whether more coalition troops should remain in the country beyond the Obama administration's current plans for a "complete withdrawal" in 2016, in light of escalating Taliban attacks. The insurgency fuels the opium boom, as the rebels need a clandestine source of funding, and can win peasant loyalties by protecting the poppy crop against government eradication. If the war fuels the opium trade as much as vice versa, and if the US presence in turn fuels the war (as the Soviet presence did in the '80s), it will be interesting to watch whether production rises further or starts to fall if in fact the US and its NATO partners really pull out next year. Unfortunately, the way Campbell is talking, we may not get to find out...
Cross-post to High Times
Photo by Tennessee Wanderer