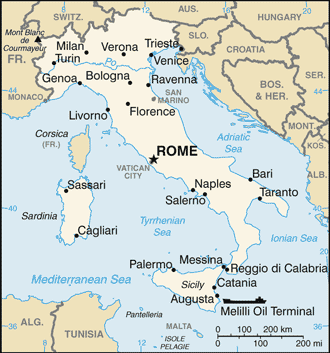 Italy's government announced Sept. 18 plans to cultivate medical marijuana at a secure military lab outside Florence and distribute it through pharmacies. Medical marijuana has been legal in Italy since 2007, but only some 60 patients have signed up with the program overseen by the national healthcare system, the Azienda Sanitaria Locale. The Florence Military Chemical-Pharmaceutical Plant (SCFM) currently produces so-called "orphan drugs" no longer made by large pharmaceutical companies but still needed to treat rare diseases. It is now to grow cannabis under a deal signed between Defense Minister Roberta Pinotti and Health Minister Beatrice Lorenzin. "The institute already produces some medicines," Pinotti told Reuters, addressing the unlikely prospect of entrusting the military with weed cultivation. "And we can guarantee security conditions."
Lorenzin said she wanted to "debunk all the cultural or ideological myths" about medical marijuana. "We already allow the use of drugs in medical treatment that are opiate or cocaine derivatives, and now we'll use cannabis," she told reporters. "Recreational drug use is harmful. But cannabis can be used to help treat certain pathologies or alleviate pain."
Italy has up to now imported all of its medical marijuana, mostly from the Netherlands. Tax and transportation drive up the cost to almost double what it goes for in Holland, with the retail price reaching almost 38 euros ($49) per gram, Dr. Francesco Crestani, an anesthesiologist and president of Italy's Association for Therapeutic Cannabis, told Reuters. (Corriere della Sera, Sept. 23; ThinkProgress, Sept. 19)
Efforts by the previous conservative government of Silvio Berlusconi to tighten up Italy's liberal policy on "recreational" cannabis were earlier this year overturned by the courts. BBC in August 2012 reported the bizarre story of a massive grow operation—900 plants—busted in an abandoned metro tunnel directly under the Italian central bank in downtown Rome. A CNN report on the find noted a growing homegrown movement in Italy—despite the fact it remains illegal, and authorities are trying to crack down. Military-grown pot may be a better option than either legal imports from Holland or illegal ones from Albania, but advocates like Italy's Radical Party continue to press for the right of medical patients—and everyone else—to grow their own.
Cross-post to High Times
Graphic: Perry-Castañeda Library Map Collection