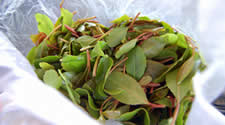 The United Kingdom's ban on possession, sale and importing of khat took effect at the end of June, officially making the midly stimulating leaf a restricted Class C drug—despite the counsel of the government's own advisors who had been appointed to study the proposed ban, and recommended against it. Unlike cannabis, khat cannot be easily grown in the UK, and must be consumed fresh to have any effect. Before the ban, over a thousand tons were flown in annually from East Africa and distributed from warehouses near Heathrow airport—in 2013 around £15 million worth (that's $25 million) was imported from Kenya. That trade is now going to end or be driven underground—costing the UK millions of pounds in tax revenues. Critics say the ban will also further criminalize African and Arab immigrant communities in Britain, who traditionally chew the leaf. (The Economist, June 28; ITV, June 27)
The ban is also being protested in Kenya, long the top khat supplier to the UK. A group of Kenyan MPs say that the ban will force almost two million people out of jobs in the khat-producing highland district of Meru, and have introduced a retaliatory bill that would confiscate lands owned by British nationals in the district. The MPs say Brits own about a quarter of Meru's farmland, mostly producing wheat and barley. Florence Kajuju, one of the MPs behind the motion, told the BBC: "If they cannot allow us to access their market then they should also then be willing to let go of tracts of land that could be occupied by the Meru people."
Kenyan khat farmers have even threatened violent action against the British government. FG Machuma, who says he represents the Meru tribe, told Sky News the ban is a "declaration of war," adding: "If they don't listen to us... they have a military base in Nanyuki... and they will have to leave. If they don't leave peacefully then we will take arms and deal with them in Kenya."
Meanwhile, Mahamud Ahmed Mohamad, who owns the UK's largest khat warehouse in west London, pledges to challenge the ban in Britain's courts. He says the ban will force him to lay off his 40 employees, and insists that chewing khat is a cultural tradition for his Somali people. He told Sky News: "It's like closing a pub... Will you feel happy if you close British pubs? Why don't you close alcohol which is affecting a lot of people? Why is it only khat that is a major issue?"
Cross-post to High Times
Photo by Eesti