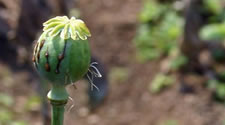 Guatemala has emerged as a major opium producer in recent years, and now President Otto Pérez Molina—a conservative who is increasingly breaking with the US-led "drug war" consensus—is considering legalized and regulated cultivation of the poppy as an alternative to eradication. "We started exploring the capacity that we could have for controlled planting," said Pérez Molina. "What that means is that we would know exactly what extensions are being planted, what the production would be and that the sale would also be well controlled, especially for medicinal use." Interior minister Mauricio López added: "There are two paths; one is cultivated substitutes, and the other is the alternative which is controlled cultivation. This is what is already being done in other countries such as India and China, that is to say identifying hectares clearly, seeing how they are grown, carrying out the harvest, taking control of the commercialization and above all making sure this serves mainly the pharmaceutical industry."
Guatemalan poppy production is centered in the department of San Marcos, near the Mexican border. According to Guatemalan newspaper Prensa Libre on Dec. 17, the legalization idea is among a number of proposals recently made to the government by Amanda Fielding of the Beckley Foundation, a UK-based drug reform organization that opened an office in Guatemala last year.
Drug War Chronicle in its write-up of Pérez Molina's proposal, hails him for considering an "outside the box" solution—"even if only a little outside the box." But the Prensa Libre account notes that the president made his comment after going out in the field in San Marcos with the Tecún Umán Taskforce—a US-financed joint army-police eradication force. The report notes that 127 hectares of poppy were eradicated in November, and Guatemala is seeking cooperation with neighboring El Salvador and Honduras to form joint anti-drug patrols for the border regions.
Cross-post to High Times
Photo by Tennessee Wanderer