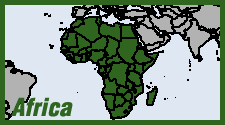 The New York Times reported July 21 that the US has begun training an elite unit of counternarcotics police in Ghana, and planning similar units in Nigeria and Kenya—part of an effort to combat the Latin American cartels that are increasingly using Africa to traffic cocaine to Europe. The decision comes despite controversy over a similar program in Central America. "We see Africa as the new frontier in terms of counterterrorism and counternarcotics issues," said Jeffrey P. Breeden, chief of the DEA's Europe, Asia and Africa section. "It's a place that we need to get ahead of — we're already behind the curve in some ways, and we need to catch up."
Top Pentagon counternarcotics officer William F. Wechsler told the Times: "West Africa is now facing a situation analogous to the Caribbean in the 1980s, where small, developing, vulnerable countries along major drug-trafficking routes toward rich consumers are vastly under-resourced to deal with the wave of dirty money coming their way."
US counternarcotics assistance for West Africa has totaled about $50 million for each of the past two years—up from $7.5 million in 2009, according to the State Department. The DEA is also opening its first country office in Senegal, and the Pentagon is working with Cape Verde to establish a regional center to detect narco-trafficking ships. These are the DEA's first teams assigned to West Africa.
In May, William R. Brownfield, the assistant secretary of state for international narcotics and law enforcement, traveled to Ghana and Liberia to seal a West Africa Cooperative Security Initiative—which will try to replicate across 15 nations the steps taken in battling trafficking networks operating in Central America and Mexico.
Among signs of a growing cartel presence in West Africa, the Times states: "Even more ominous, according to American officials, was a case in which a militant group called Al Qaeda in the Islamic Maghreb offered three of its operatives to help ship tons of cocaine through North Africa into Europe — all to raise money to finance terrorist attacks. The case ended this past March with conviction and sentencing in federal court in New York." However, as we noted, the supposed drug deal in the case was entirely a creation of DEA infiltrators.