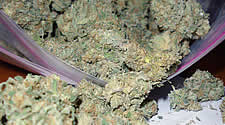 The number of registered medical marijuana cardholders in Montana fell below 12,000 as of March 31 for the first time in two years, the Billings Gazette reported April 13. A total of 11,993 cardholders had registered as of March 31 with the state Department of Public Health and Human Services Marijuana Program—after peaking a year ago at 31,522. In addition, there were 421 medical marijuana providers, previously called caregivers, registered with the state as of March 31—down from 4,848 a year ago. The number of physicians who can recommend the use of medical marijuana to cardholders is also down—to 254 from a peak of 365 as of last June. Activists and patients blame federal raids and restrictive new legislation in the state.
The 31,522 figure was registered in May 31, 2011—a month before the new restrictive law went into effect. The new law put an end to the "cannabis caravans" that registered hundreds of patients across the state. The new law required cardholders and providers to be Montana residents, required people claiming severe chronic pain to provide supporting proof of their condition or see a second physician, and required providers to submit fingerprints for criminal history background checks. It also banned the use of cannabis in public and authorized local governments to regulate providers and to ban storefront dispensaries.
Shortly after its passage, the Montana Cannabis Industry Association and others sued to try to get the law thrown out. Judge James Reynolds of Helena, in a ruling June 30, 2011, the day before the new law took effect, temporarily blocked several provisions. One would have limited a provider to three patients, while another would have prohibited providers from being paid for cannabis or related products. Reynolds also blocked a provision that would have triggered a Board of Medical Examiners review of any physician who recommended cannabis for more than 25 patients in any 12-month period. Both the state and the Cannabis Industry Association have appealed portions of Reynolds' decision to the Montana Supreme Court.
Photo by the Mad Pothead