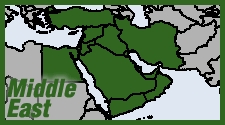 The US Justice Department on Oct. 11 announced charges aganst two men allegedly working for "factions of the Iranian government" with plotting to assassinate the Saudi ambassador in Washington, Adel al-Jubeir, and to attack Saudi embassies.
The indictment, unsealed in federal court in Manhattan, identified the two as Manssor Arbabsiar, an Iranian-American car dealer in Corpus Christi, Tex., and Gholam Shakuri, described as Arbabsiar's cousin. Attorney General Eric Holder said Arbabsiar, who was arrested on Sept. 29 in New York, was working for Iran's Revolutionary Guard and had confessed to the plot. Shakuri, who is based in Iran, remains at large, Holder said. He allegedly is a member of the Quds Force, a special unit of the Revolutionary Guard. Holder said the case started when Arbabsiar made contact with an undercover DEA informant in Mexico and asked for assistance from Los Zetas drug cartel to assassinate the ambassador by blowing up a restaurant he frequents. Arbabsiar allegedly wired $100,000 to the informant as a down payment on a $1.5 million assassination fee. (InSight Crime, Oct. 12; Associated Press of Pakistan, Oct. 11)
The plot was "directed and approved by elements of the Iranian government and, specifically, senior members of the Quds Force," Holder said, referring to the elite unit in charge of the Islamic Revolutionary Guards Corps' activities abroad. "High-up officials in those agencies, which is an integral part of the Iranian government, were responsible for this plot," the attorney general went on, asserting that the scheme was "conceived, sponsored and was directed from Iran." Calling it a "flagrant" violation of US and international law, he added: "The US is committed to holding Iran accountable for its actions."
Secretary of State Hillary Clinton said the plot "crosses a line that Iran needs to be held to account for," and that President Obama will enlist more countries to work against a "clearer and clearer threat" from Iran. Tehran, of course, has denied the accusations. (RFE/RL, Jewish Policy Center, Oct. 12)
Some international crime and terrorism watchdog organizations expressed skepticism about the claims. "Any plan to use Mexican drug cartels to carry out attacks against the United States would threaten the very existence of the cartel," a Stratfor analysis said. "Mexican drug cartels are already facing challenges — struggling with one another and with the Mexican government for control over transportation routes that will allow them to transit cocaine from South America to the United States. Any foray into international terrorism would be bad for business." (Miami Herald, Oct. 12)
The Quds Force has been accused of assisting the Syrian regime in putting down pro-democracy protests, training Shi'ite militants in Iraq (in collaboration with Lebanon's Hezbollah), and involvement in the anti-Jewish terrorist attacks in Argentina. The White House has been mulling whether to declare it an official "foreign terrorist organization."
Los Zetas, for their part, are by far the most blood-drenched of Mexico's warring cartels, which is saying quite a lot. However, we will note that since the lynchpin in this case appears to be "an undercover DEA informant," it is quite possible that no actual Zetas were involved at all. It is also quite possible that DEA and/or FBI plants facilitated or even hatched the entire plot. This could be just the latest in a long string of specious terrorism cases in which the supposed "conspiracy" is entirely a creation of federal spooks...