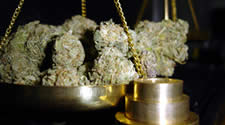 Federal prosecutors pursuing drug charges against Montana medical marijuana operators want to keep jurors from hearing any evidence at trial about the state law approving such operations, or whether the defendants were complying with it. US Justice Department attorneys have made motions in at least two cases stemming from federal raids on dozens of medicinal cannabis operations this spring, asking judges to bar any testimony or evidence about medical marijuana.
"Montana's medical marijuana laws have no relevance to the present prosecution, which consists of various charges the defendants violated federal law in relation to a marijuana manufacture and distribution scheme," Assistant US Attorney Joseph Thaggard wrote in an August court filing.
The question will go unanswered in one case. Ryan Blindheim and Evan Corum of the Black Pearl dispensary in Olney recently pleaded guilty—Blindheim to a charge of conspiracy to manufacture marijuana and both to money laundering. But attorneys for a Miles City family of medical marijuana operators plan to fight the prosecutors' attempt to keep state law out of their trial.
Billings attorney Brad Arndorfer, representing Richard Flor and his family, says that Flor, his wife Sherry and son Justin were in compliance with state law and conducted their operations in full view of law enforcement. "Evidence concerning the fact that medical marijuana is a legal drug in Montana, and that Mr. Flor was not some nefarious drug dealer, should be allowed at trial," Arndorfer wrote in his reply to Thaggard.
Richard Flor's partners in the Montana Cannabis enterprise were Tom Daubert, a leader in the 2004 voter initiative to legalize medical marijuana in Montana, and Chris Williams, who was responsible for the operation's large growing warehouse in Helena. Daubert and Williams were not charged, but named as "unindicted coconspirators.' Williams, however, is suing the US government over the raids. (AP, Sept. 7)
The Justice Department took $38,000 from Montana Cannabis in the March raid, Williams says, as well as a 2008 Ford pickup and a 2006 Chevy Trailblazer. Among the weapons seized from Montana Cannabis and employees was an antique gun that a business partner inherited from his grandfather. Williams says the items taken, not including plants and cannabis products, were worth about $50,000. (Missoula Independent, Sept. 8)
Photo by the Mad Pothead