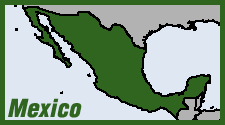 Top leaders from the US and Mexico agreed to emphasize intelligence coordination in the next $331 million phase of the Merida Initiative following discussions in Mexico City on March 23. Mexican President Felipe Calderon and Government Secretary Fernando Francisco Gómez-Mont hosted the meeting with US Secretary of State Hillary Rodham Clinton, Defense Secretary Robert M. Gates, Homeland Security Secretary Janet Napolitano, Joint Chiefs of Staff chairman Adm. Mike Mullen, and National Intelligence director Dennis C. Blair.
In a break with established strategy, resources will now begin to shift away from military assistance. More than half of the $1.3 billion spent under the Merida Initiative was used to buy aircraft and other materiél for the Mexican army and police. Next year's foreign aid budget provides for police training, not equipment.
"We are extending the Merida Initiative beyond what it was traditionally deemed to be," Clinton said at a press conference, alongside Mexican Exterior Secretary Patricia Espinosa. Calling the next phase "a long-term strategic vision" between the two countries, Clinton said, "This new agenda expands our focus beyond disrupting drug trafficking organizations" to include "strengthening institutions, creating a 21st Century border, and building strong, resilient communities." She acknowledged that "the recent downturn in economic growth and remittances has aided the drug traffickers in their recruitment of young people."
Military cooperation is to continue, however, officials said. Pentagon assistance to Mexican counter-narcotics efforts amounted to $78.2 million in 2009 and 2010. (Examiner.com, March 24; NYT, March 23)
Napolitano and Gómez-Mont signed two arrangements to bolster aviation and border security cooperation. "Our close relationship with the Mexican government continues to grow stronger as we work together to find new ways to crack down on violent drug cartels and combat terrorism," said Napolitano. "The arrangements signed today further increase the capabilities of the United States and Mexico to protect both sides of the border from transnational criminals and terrorists that threaten the safety of both of our nations."
The first arrangement formally establishes the Joint Security Program for Travelers (JSP), which enhances information sharing between the US and Mexico. The second arrangement, signed with both Gómez-Mont and Public Safety Secretary Genaro García Luna, will enable DHS to electronically share criminal history information with Mexican law enforcement on Mexican nationals repatriated from the US.
The meeting came amid growing concerns about violence on the Mexican side of the Rio Grande. On the same day as the Mexico City meeting, Sen. John Cornyn, (R-TX) urged the Senate Judiciary Committee to convene a hearing to discuss the violence, which Cornyn said has already spilled into Texas. (Aviation News, Texas Tribune, March 24)