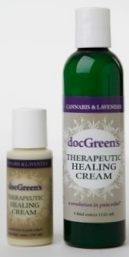 Doc Green's Healing Collective, producers of the cannabis-infused Doc Green's Therapeutic Healing Cream, has received a letter from Wells Fargo sating that the business' account has been closed pending review—citing the "nature of the business." Doc Green's co-founder Ramona Moonflower Rubin told Global Ganja Report business is now paralyzed, and the collective is considering its options. Rubin notes the irony: "We are producers of topical cannabis products that don't have any psychoactive effect. They don't get users high, they just provide pain relief when applied directly to the affected area."
The news comes as Wells Fargo has stopped opening new accounts for medical cannabis dispensaries in Colorado, where it was virtually the only bank that has been willing to serve them, Cannabis Culture reported in February. Cristie Drumm, a spokeswoman for the banking giant, said Wells Fargo is examining state and federal laws to determine what the bank's risk is in working with dispensaries. "We're not actively opening accounts with these businesses at this time," she told Cannabis Culture.
Doc Green's contains cannabis extracts, but is applied topically, not ingested. It is available though the Berkeley-based collective, or through other California medical dispensaries. Patients report that it is effective for sufferers of arthritis, fibromyalgia and injuries. The concoction of local cannabis extract with fair-trade shea butter, palm oil and other ingredients was developed by collective members while snow-boarding in the Sierra Nevada.