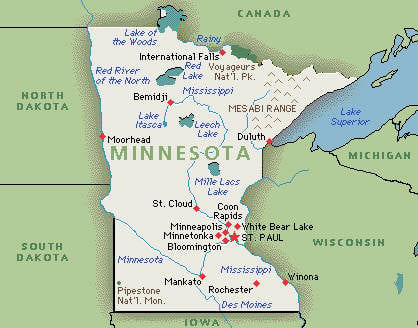 Cannabis is now legal in Minnesota, and the first adult-use sales have been on two of the state's Native American reservations. The Red Lake and White Earth nations are using their sovereign status to get the jump on the North Star State's retail sector.
Minnesota's new adult-use cannabis law took effect on Aug. 1. Those 21 and older can now hold up to two ounces of cannabis in public, consume it any private place, and possess two pounds or cultivate up to eight plants (four mature) at home.
House File 100, signed into law by Gov. Tim Walz (D) on May 30, makes Minnesota the 23rd US state to legalize cannabis. It also mandates a framework for a regulated retail market, building on that established for the state medical marijuana program, in place since 2014.

Medical dispensaries and other prospective adult-use operators are now waiting on the licensing and regulatory system to be put in place. The newly formed state Office of Cannabis Management says legal retail sales are unlikely to begin before early 2025.

But the first sales nonetheless took place on the very morning that HF 100 took effect—at Red Lake Nation, a Native American reservation in the state's fairly remote northwest.
Sovereignty for cannabis
Journalists and tribal leaders were both on hand as a line of over 100 eager Minnesotans queued up outside Red Lake's NativeCare dispensary for the first sales. The Twin Cities' Star Tribune described "dancing and cheering" as the doors opened.

The Minnesota Reformer ran a photo of Mikah Whitecloud, NativeCare's marketing manager, handing out "marijuana menus" to smiling customers.

According to the Reformer, NativeCare charges $50 for 3.5 grams of standard strains, like "Pineapple Chunk" and "Glue," and $60 for premium strains, like "Hella Jelly" and "Super F'n Gassy." Customers must pay in cash and may purchase up to two ounces at a time. The product is grown on-reservation, in an operation under auspices of the tribal government.

NativeCare opened as a medical dispensary in February. On July 11, the Red Lake tribal council voted to legalize the sale of adult-use cannabis on the reservation.

Tribal Secretary Sam Strong told Minnesota Public Radio that the move creates "an investment opportunity for the tribe to provide tested product to individuals that want to purchase it."

He also posed it as the opportunity to create a regulated market for a psychoactive substance at a time when—alarmingly—fentanyl is more readily available on the reservation than cannabis.

"Fentanyl has been taking a deadly toll in our community," said Strong. "We want to make sure that we're protecting those that choose to participate."

The tribal council at the White Earth Nation, also at the northwest end of the state, voted to similarly allow adult-use sales on July 28. The state's second dispensary is likely to open there within a matter of days, likewise with product from a grow operation overseen by the tribal government. "In the near future, White Earth Nation will open for adult-use, recreational cannabis," White Earth Chairman Michael Fairbanks told MPR News after the tribal council vote.

As in Red Lake, the new dispensary will be open to the general public as well as tribal members. "It's good not just for our constituents, but it's good for all Minnesotans," Fairbanks said.

Fairbanks also confirmed to MPR that White Earth, along with other indigenous nations in Minnesota, is in talks to establish a compact with the state that would allow tribes to operate dispensaries off-reservation.

HF 100 calls for compacts between the governor and Minnesota's 11 tribal governments, allowing for sale of either medical or adult-use cannabis. However, the law explicitly recognizes that tribal governments are sovereign, and can operate dispensaries on their own jurisdictional territories regardless of whether such compacts are in place.

In addition to its own 1,200-plus square-mile reservation, Red Lake Nation also has jurisdictional control over a large area of the Northwest Angle, Minnesota's exclave above the 49th parallel that forms the Canadian border, abutting the provinces of Ontario and Manitoba.

Cannabis, land recovery and ecology
Both Red Lake and White Earth are nations of the Anishinaabeg people—also known as Ojibwe or, by the English corruption, Chippewa.

White Earth is the home of the renowned Native American activist Winona LaDuke, who has for several years been growing hemp on the reservation. She helped establish the Anishinaabe Agricultural Institute to promote hemp, and it is now being grown both on her own homestead and adjacent reservation lands owned by the White Earth Land Recovery Project. She also helped found the Land Recovery Project in 1989, to buy back usurped reservation lands.

Both reservations have been involved in the fight against the Line 3 oil pipeline that the Canadian company Enbridge hopes to build through Minnesota—part of a network of pipelines bringing Canadian tar-sands oil to US markets.

And LaDuke makes the connection between a revitalized agricultural economy for the country's marginal rural areas and the ecological imperative to find an alternative to the current unsustainable global model.

"Because the word canvas comes from cannabis, and that's what we should be making sails and tarps out of, not plastics and petroleum byproducts," she wrote in a commentary last month for North Dakota's InForum website. "That's how we keep carbon in the soil, and not in the air."

Cross-post to Cannabis Now

Map: Greenwich Mean Time