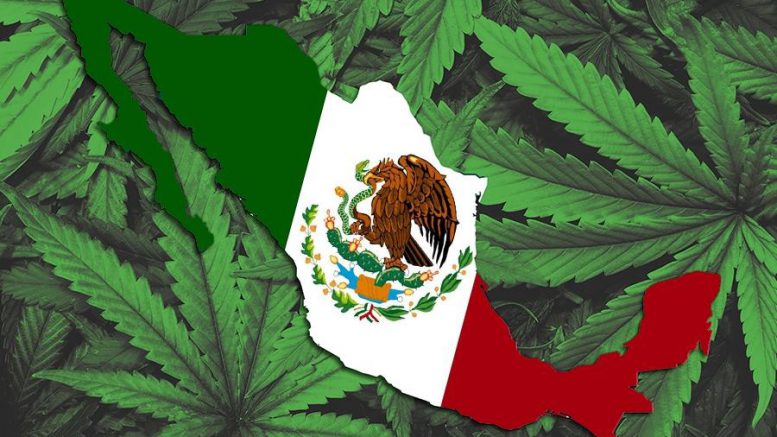 Two years and counting after Mexico's Supreme Court ordered the country's Congress to legalize cannabis, the high court justices ran out of patience with the legislative paralysis and issued a new ruling — this one removing penalties for personal use by judicial decree.
But there is no provision for commercial production, and the decree calls for tight federal regulation even of personal possession and cultivation. Will this move prove to be at least a beginning in the daunting challenge of ending Mexico's long and bloody narco-nightmare?
Ruling stops short of full legalization
Mexico's Supreme Court of Justice of the Nation (SCJN) on June 28 announced that it had struck down those provisions of the General Health Law that impose an "absolute prohibition" on the "playful" (lúdico) or "recreational" use of cannabis.
The 8-3 ruling goes beyond the limited decriminalization that Mexico passed in 2009, which removed penalties for "personal use" quantities — to be determined at the discretion of the judge, but in practice since then considered to be five grams.
The ruling stops short of what some may consider true legalization, because it makes no reference to establishment of a commercial market. Nonetheless, it does explicitly permit "planting, cultivation, harvesting, preparation, possession and transportation" in the context of "autoconsumo" — personal use.
The move was clearly a reaction to paralysis in the country's Congress on the question. The SCJN declared cannabis prohibition unconstitutional in October 2018, saying it violated the fundamental right to "free development of the personality." That ruling ordered Congress to amend the law within 90 days. But unable to agree on terms, Congress repeatedly applied to the SCJN for extensions. The last deadline expired on April 30, without any reform of the Health Law having passed.
"Today is an historic day for liberties," SCJN president Arturo Zaldívar stated upon the new ruling.

Yet the protocols instated by the ruling are still limiting. In order to legally cultivate cannabis, citizens will have to apply for a permit from the Federal Commission for Protection against Health Risks (COFEPRIS). The details of how this system will work, presumably including a definition of personal-use quantities and the degree of control assigned to COFEPRIS, are to be outlined in a document called an engrose, to be issued by the SCJN within 60 days of its ruling.

Activists who have been increasing the pressure for legal cannabis in Mexico over the past years are heartened by the ruling — but insist that it doesn't go far enough.

"The step the Court is taking increases the responsibility of the legislative branch in this matter," advocacy group Regulación por la Paz said in a press release. "It is necessary to continue the legislative process so that the work that has been invested to date is consolidated in the modifications necessary to guarantee the rights of citizenship."

Legislative paralysis
In its new ruling, the SCJN again stated that it "exhorts" Mexico's Congress to pass legislation recognizing the right to "autoconsumo recreativo." But full legalization remains mired in a parliamentary morass.
In March, the lower-house Chamber of Deputies, by a vote of 316-to-129, approved a law that did indeed allow for commercial cultivation, distribution and sale. A similar measure was passed by the Senate last November, by a vote of 82-to-18.
But the bills were not identical, with the lower-house version assigning oversight for the anticipated legalized industry to the National Commission Against Addiction (CONADIC). The Senate version would have created a "Mexican Institute for Regulation & Control of Cannabis" to fill this role.
So the bill was returned to the Senate to bring it into conformity with the lower-house version — and there it languished, partly due to conservative opposition.
"It's a political fad," said Sen. Damián Zepeda Vidales of the right-opposition National Action Party (PAN), dismissing the entire issue of legalization.
This was clearly a disappointment not only for activists but foreign investors anticipating a Mexican "green rush." Canada's Canopy Growth and California-based Medical Marijuana Inc were among the industry majors said to be eyeing a stake in Mexico's legalized market. For now, they will still have to wait.
Referendum in the offing?
President Andrés Manuel López Obrador, popularly known as AMLO, is a left-populist who was elected in 2018 on a pledge to de-escalate Mexico's blood-drenched and seemingly endless drug war. Yet he responded ambivalently to the SCJN decision, saying he will honor it — but also broaching putting the question before the voters in a referendum.
"Of course we're going to respect what the court has decided and we're going to evaluate. We're going to see what effects it has," AMLO said in a press conference after the ruling — adding that "there are two views" on the issue, including within his own cabinet.
"If we see...that it's not working to address the serious problem of drug addiction, that it's not working to stop violence, then we would act," the president stated, suggesting he could send a new and more restrictive bill to Congress, or call for a popular referendum.
Limited progress for medical marijuana
Earlier this year, the door further opened for a medicinal cannabis sector in Mexico. Here, too, Congress has taken a long time to enact changes mandated by the judiciary.

In August 2015, eight-year-old Graciela Elizalde of Monterrey became Mexico's first legal medical marijuana patient, when a judge overruled the government's refusal of her family's request for permission to obtain CDB oil to treat her epilepsy. It wasn't until June 2017 that Mexico's Congress passed a bill instating a limited CBD-only medical marijuana law. Mexican patients have since been confined to use of CBD products imported from the United States — certainly an historical irony, as illicit cannabis has long gone north from Mexico to the US.
On Jan. 12, AMLO enacted new rules that greatly expand the medical marijuana program, allowing domestic production and research. The new regulations assign an oversight role to COFEPRIS, which will issue permits, and develop standards jointly with another agency, the National Service for Agro-Alimentary Safety & Quality (SENASICA).
But the regs primarily concern pharmaceutical companies — with no provision for personal cultivation. This was met with enthusiasm by potential corporate investors — but emphatically not by Mexico's activist community.
Activists turn up the heat
Since the SCJN issued its initial decision in October 2018, this activist community has been making its power felt in Mexico as never before. On April 20 — the international cannabis celebration known as 420, and 10 days before the last deadline ran out in Congress — a thousand demonstrated outside the Senate building in Mexico City, demanding legislative action.
And many expressed frustration at the restrictive nature of the bill that was then under consideration, which would have limited possession to 28 grams, and kept prison terms for over 200 grams. Personal cultivation of up to six plants was to be by license only, with terms of up to 10 years imprisonment for those who grow more.

The lower-house bill also allowed "cannabis associations" (asociaciones cannábicas) of up to 20 members, permitted to grow up to 50 plants for members only — a model already effectively in operation in many areas of Mexico, in anticipation of legality.
Limits on commercial production were to be determined by either CONADIC or the proposed Mexican Institute for Regulation & Control of Cannabis, depending on which version of the bill. Measures that would have promoted campesino and indigenous cultivators in the licensing program were also stripped out of the final lower-house version.
"What the legislation is proposing is not what the Supreme Court mandated. They declared that we are free, that it's not a crime anymore to smoke weed or carry it," Pablo Alfa of the Asamblea Cannabica told the Texas Standard, which had a reporter at the scene at the 420 rally.
The Senate building has actually been the site of a permanent protest camp, known as Plantón 420, or Vigil 420. When the Plantón was first launched in February 2020, activists planted hundreds of cannabis plants in the patch of parkland outside the Senate building where they are camping. It has since grown into a virtual jungle of cannabis right in the very center of Mexican federal power — and, amazingly, the police have tolerated it.
Since the SCJN decision, activists have also launched a plantón outside the Court building as they await issuance of the engrose with final regulations for personal use.
Will narco-violence de-escalate?
De-escalating Mexico's nightmarish narco wars has been a critical imperative behind the legalization push. But there are reasons to beware of utopianism here.
As the New York Times wrote in March, when the legislation was still pending: "Security experts agree that the law's practical impact on violence will likely be minimal: With 15 American states having now legalized marijuana, they argue, the crop has become a relatively small part of the Mexican drug trafficking business, with cartels focusing on more profitable products like fentanyl and methamphetamines."
"We shouldn't overestimate the power of this bill," Falko Ernst, senior Mexico analyst for the International Crisis Group, told the Times. He said that the bill would not "substantially change the dynamics and drivers of lethal conflict in Mexico."
Especially given the bill's limited scope (and the SCJN ruling is even more limited), there is warranted skepticism that it could have much impact on a drug war that has cost an estimated 150,000 lives, according to the Council on Foreign Relations.
This may actually be a low-balled figure for the grim body count since President Felipe Calderón began his term in the final days of 2006 by deploying the army to fight the cartels.
The massacred, the 'disappeared' — and state complicity
Mexican authorities announced Jan. 6 that an estimated 61,637 people have "disappeared" amid the relentless drug war. While the cases analyzed date back as far as the 1960s (when an incipient guerilla movement was taking hold in the southern mountains), more than 97% of the cases occurred since 2006. More than 5,000 people disappeared last year, said Karla Quintana, head of Mexico's National Search Commission (Comisión Nacional de Búsqueda de Personas Desaparecidas).

This puts Mexico over the past decade and a half in the same dishonorable league as Argentina, where 30,000 disappeared in the "dirty war" between 1976 and 1983, and Guatemala, where 40,000 disappeared over the course of a 36-year civil war.
Falko Ernst of the International Crisis Group welcomed the government's release of the sobering figures, but tweeted: "What is being done to curb conflict, thus prevent numbers from rising further, is still unclear."
Indeed, actual overlap persists between the security forces and the cartels — which have now expanded beyond smuggling cannabis, cocaine, heroin and methamphetamine to dealing in pirated oil and minerals, and industrial-scale ransom kidnapping.
Mexican federal authorities on Feb. 3 arrested 30 naval troops (known as Marines) suspected of forcibly disappearing people along the US border in 2014. While the exact number of the disappeared in question is unclear, Nuevo Laredo, in northeast Tamaulipas state, has one of the highest missing persons rates in the country — an estimated 80,517 people having gone missing between 2006 and December 2020. The Naval Secretariat pledged to cooperate with the Prosecutor General of the Republic in the investigation.
The US Congressional Research Service in an October 2020 report offered even more grimly impressive figures, estimating 275,000 people killed and another 71,678 "disappeared" in Mexico since 2006.
A 'failed state'?
As far back as 2009, when the country was going over the edge into extreme narco-dystopia, the Pentagon issued a report naming Mexico as a possible near-future "failed state." With a profusion of militias tied to the cartels (most notoriously, Los Zetas) fighting both each other and the security forces, it was clear that the state's monopoly on the use of force was breaking down.
Nor does this show much sign of improving. This March 18, gunmen ambushed a police convoy on a security patrol just southwest of the capital — in Coatepec Harinas municipality, México state. A total of 13 state police and prosecutors were killed, and the assailants all escaped.
And the disappearances and massacres continue. On Jan. 19, Tamaulipas authorities announced the discovery of 19 shot and burned bodies on a dirt road outside Camargo, a town just across the Rio Grande from Texas. The victims proved to be Central American migrants seeking to enter the US, and seemingly intercepted and slain by one of the warring narco-militias in the area.
There have been numerous mass abductions and massacres of migrants along the Tamaulipas border over the past long years of crisis.
It was soon announced by the Tamaulipas prosecutor's office that 12 members of a state police Special Operations Group (GOPES) had been arrested in connection with the Camargo massacre.
And the mass graves of the cartels' victims — popularly known as "narco-fosas" — continue to be unearthed with unnerving regularity. This March, 22 bodies were exhumed from a clandestine grave in Celaya, Guanajuato state.
Uprising against 'femicide'
Another activist upsurge has been seen in response to the incessant targeted killings of women that has been concomitant with the narco-violence. This phenomenon has been increasing at an alarming rate, with hundreds of women slain on the basis of their gender annually.
Ahead of this year's International Women's Day march, authorities in Mexico City erected fencing to protect the National Palace — doubtless recalling the increasingly militant women's rights demonstrations in the capital in recent months. But activists turned the three-meter high barrier into a memorial to the victims of "femicide" — painted with the names of hundreds of victims from around the country. And at the March 8 Women's Day event, the barrier was torn down by hundreds of activists, many of whom had come prepared with pick-axes, blow-torches and other implements of destruction.
Anger was particularly directed at AMLO at that moment, as he was standing by a powerful politician and longtime loyalist as multiple women came forward with accusations of rape and sexual assault. Félix Salgado Macedonio of AMLO's left-populist MORENA party had his campaign for governor of Guerrero state derailed by the allegations. Years earlier, as mayor of Acapulco, he had been investigated by the federal Prosecutor General for possible narco ties.
After last year's International Women's Day, tens of thousands of women across Mexico walked out of their jobs in protest of the government's lack of action regarding femicide.
Does decapitating the cartels help?
The February 2019 conviction in a US federal court in New York City of Joaquín "El Chapo" Guzmán, infamous extradited kingpin of the Sinaloa Cartel, was looked to as a turning point that could see the most powerful of the Mexican cartels (at least) diminished. Instead, it has turned into something of a lesson in the futility of attempting to "decapitate" the cartels.
This February, two years after his conviction, Chapo's wife, Emma Coronel Aispuro, was arrested on arrival at Dulles International airport outside of Washington DC, and charged with conspiracy to distribute cocaine, methamphetamine, heroin and marijuana for importation to the US. She had apparently inherited many of her imprisoned spouse's operations.
Media reports in Mexico have also indicated that Chapo's sons, known as "Los Chapitos," are waging a struggle for control of the Sinaloa Cartel against the last remaining member of the so-called "old guard," Ismael Zambada García AKA "El Mayo," who had been considered the heir apparent.
Decapitation of cartels can often lead not to decline so much as fragmentation and factionalism, further fueling violence.

The Cienfuegos affair
This was evident in a close reading of the news when Gen. Salvador Cienfuegos Zepeda, Mexico's former defense minister, was arrested at Los Angeles airport in October 2020, and charged by US authorities with narco-corruption. In the usual cycle, Cienfuegos had just short years earlier been hailed by US officialdom as a bulwark in the war against drugs. In 2018, he received an award for his contributions to "hemispheric defense" from the Pentagon's National Defense University.
Prosecutors now said that Cienfuegos was the "Padrino" or Godfather of the "extremely violent" H-2 drug cartel. This was revealed to be a breakaway faction of the Beltran-Leyva Organization, which had itself earlier splintered from the Sinaloa Cartel — each of these splinterings occasioning much bloodshed.
But Cienfuegos didn't go on trial. In November, a federal judge in New York granted the US government's request to drop the charges against him. The Justice Department capitulated to pressure from Mexico, and stated that the general should be investigated in his home country. And in January, after he had been returned to Mexico, federal authorities in that country announced that no charges would be brought.

AMLO later asserted that Cienfuegos had been arrested for political reasons, the charges against him "fabricated." The affiar came amid a dispute between the US and Mexico over AMLO's move to strip DEA agents in the country of sovereign immunity and bring their activities under greater oversight by Mexican authorities. These were provisions of a new Security Law passed by Mexico's Congress last year. It merely mentions "foreign agents," but is clearly aimed at the US Drug Enforcement Administration, which has massive operations in Mexico. The provisions were softened in the implementing regulations issued in January, and the diplomatic spat passed.

Meanwhile, Mexico's former secretary of public security Genaro García Luna, who was arrested by US authorities in Dallas in December 2019, continues to face charges of having assisted the Sinaloa Cartel. His former right-hand man, ex- Federal Police commander Luis Cárdenas Palomino, was arrested in Mexico City this July 1 on charges of torture. Although implicated in many human rights abuses (including threatening journalists), the case they finally charged him on concerned the abuse of a kidnapping suspect in 2012.
How sincere is AMLO's de-escalation talk?
AMLO ran for the presidency in 2018 on a promise to end the relentless narco-violence, with a slogan of "Abrazos, no balazos" — Hugs, not shoot-outs. Upon taking office at the end of the year, he even declared the drug war over.
In a March 2019 speech before the National Search Commission, he admitted that in Mexico, "the principal violator of human rights has been the state," and pledged to change that.
That May, he announced that his administration was dropping out of the regional US-led drug enforcement pact known as the Merida Initiative, and was turning down the latest aid package offered through the program. "It hasn't worked," he said. "We don't want cooperation in the use of force, we want cooperation for development."
Instead, he proposed a dialogue with Washington on "binational decriminalization" of drugs — with both nations coordinating on a transition away from the enforcement-based model.
Since 2008, the US had supplied Mexico's security forces with training and equipment under the $1.4 billion Merida Initiative, which also included the Central American nations. It is true that most of the big transfers of military equipment were made early in the program; in recent years more of the funding had gone to training police and prosecutors in an effort to reform Mexico's notoriously corrupt justice system. But, at a minimum, AMLO's announcement made a strong symbolic statement.
AMLO has also launched a new federal National Guard to combat the narco-violence, ostensibly a force untainted by the corruption that has compromised the federal police agencies he inherited. But it has been widely deployed to intercept migrants on the Guatemalan border — leading to charges that it had essentially become a proxy force for Trump's anti-immigrant policies. And under a new deal on immigration enforcement cooperation with the Biden administration, AMLO has agreed to keep at least 10,000 troops on Mexico's southern border.
AMLO is now half way through his six-year term, with re-election barred by Mexico's constitution. Whether or not his left-populist coalition holds on to power in 2024, and whether or not Mexico's Congress finally legalizes cannabis, it is clear that the dilemmas of the drug war will persist. There have been oceans of blood spilled in Mexico since the cartels first emerged as marijuana syndicates in the 1970s. After the cocaine boom of the '80s and the diversification into multiple criminal enterprises over the past grisly decade-and-a-half, the situation is now considerably more complicated. Legalization will not be the proverbial magic bullet.
It may, however, still be viewed as an essential first step on the road to de-escalation. And the Supreme Court of Justice decision may prove, with luck, to be a first step toward that first step.

This story first ran July 14 on Project CBD
Image:
Revista Cáñamo via Cuarto de Hora