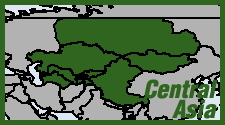 A Discovery News slideshow, "Ancient Cannabis: Uncovering a 2,700-Year-Old Stash," relates a recent archaeological find at Yanghai Tombs in the Huoyan Shan mountains (Xinjiang, China): the remains of a tribal shaman from the Gushi culture, who was buried along with a medicine pouch, riding bridle, bows and arrows—and a wooden bowl containing cannabis.
The vegetable substance was originally thought to be coriander, but laboratory analysis by the Oxford University team determined that it was in fact cannabis. A microscopic image of the ancient cannabis shows that it has retained its green color, and red resin secretions are clearly visible. A seed sample found indicated the cannabis came from a cultivated strain, although the male plant material had been removed—leaving "little doubt as to why the cannabis was grown."
The Gushi were an Indo-European people who spoke a now-extinct language known as Tocharian, related to the Celtic family. Apparently, many ancient peoples of the Asian steppes and deserts used cannabis. In 1994, Russian archaeologists at a dig in Siberia's Altai Mountains made a similar find at the gravesite of a Scythian queen.