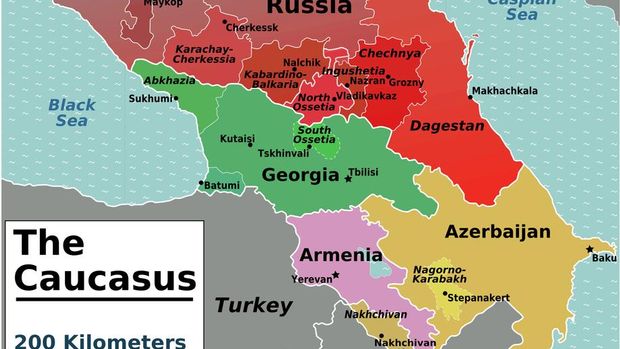 A protest in the Caucasus republic of Georgia to demand legalization of personal drugs use, with an emphasis on cannabis, points to changing times in the former USSR. The youth group behind the protest was first formed to demand freedom for a popular artist who was sentenced to 14 years for possession of a small amount of herb. The country's top court actually struck down penalties for cannabis possession as a result of the case. But the activists are pressing their campaign—a sign of cultural thaw in a region with very harsh drug laws.
Thousands of young people gathered in front of the Georgian parliament building in capital Tbilisi on May 12—not over a contested election, the sort of thing that usually sparks demonstrations in the former Soviet republics, but to protest police drug raids on two nightclubs the previous evening. In addition to calling for the resignation of the interior minister, protesters demanded legalization of personal possession of cannabis and other "recreational" drugs.

As the New York Times reports, even though the protesters were dissed as derelicts and drug addicts, the government took the demonstration seriously enough to offer negotiations—and to move water cannons into position in the streets of Tbilisi.
Protesters held the square outside the parliament building through the night. To prevent what was shaping up as an occupation of the square, Interior Minister Giorgi Gakharia issued an apology for excessive use of force in the raids, and pledged to meet with activist leaders to discuss their demands. Prime Minister Giorgi Kvirikashvili also issued a statement, saying "the government will have a firm position on the drug trade on the one hand, and will be a lot more humane to drug users on the other."
The activist group behind the demonstration, calling itself White Noise, first came together in 2013 to defend a young artist, Beka Tsikarishvili, who was then facing 14 years in prison for possessing 65 grams of cannabis—about two ounces. As the case wound through the courts, the "Beka Is Not a Criminal" movement repeatedly took to the streets to demand his freedom, as Georgia's OC Media website reported. The campaign paid off. In 2015, as Georgia's Constitutional Court declared imprisonment for possession of less than 70 grams of cannabis to be unconstitutional.

A year later, under continued activist pressure, the Constitutional Court ruled that imprisonment for possession or consumption of any amount of cannabis is unconstitutional. And in July 2017, the Georgian parliament amended the law to comply with the ruling, imposing a fine for cannabis possession instead of prison time. Although possession in any quantity technically remained a criminal offense, Georgia had basically won de facto decriminalization.

"It was a great victory," said White Noise leader David Subeliani in an interview with pan-European pro-democracy website Political Critique. "Not only because Beka avoided a prison sentence, but also because hundreds of prisoners for the same charge were immediately released."

Tsikarishvili, who spent two weeks in jail upon his 2013 bust before being released on bail, ultimately had to pay a fine, Radio Free Europe reported last December.

This victory was especially meaningful in a country which had long been something of an anti-drug police state. Police routinely carried out spot checks on the streets and in clubs, demanding urine samples. Many thousands were thusly tested, and hundreds imprisoned for years merely for failing a urine test. In 2015, a suspect died after officers allegedly made him take diuretic pills for a test, fuelling violent protests in Tbilisi. As The Guardian reports, even now Georgians still face a fine of 500 lari ($200) if they are found with THC in their urine.

The "Beka Is Not a Criminal" campaign later transformed into the White Noise movement, which continued to campaign for drug-law reform, and rallied support for others facing lengthy prison terms. This has also won results. The liberal opposition party Girchi in 2016 adopted a plank to officially decriminalize cannabis, and turned this into one of its leading issues, Radio Free Europe reports.

There is a sense here of a deep indigenous tradition of cannabis use re-emerging from the shadows after the long years of Soviet and post-Soviet repression. Atlas Obscura food-and-travel website this month ran a piece on the culinary use of cannabis by the Svans—an ancient community living in the highest inhabited settlements of Georgia's Caucasus Mountains. They have kept alive the ancient custom of using cannabis as an herb in khachapuri, the traditional Georgian cheesebread. With the legal and cultural thaw, such traditions may seep back down from the remote mountain communities to Georgia's heartland.
And in another sign of cultural thaw, on May 17, a group of some 250 gay rights activists holding rainbow flags gathered in the same square in Tbilisi that White Noise had occupied, to mark the International Day Against Homophobia and Transphobia (IDAHOT), according to Civil Georgia website.

Georgia's leaders are doubtless very attentive to the demands of demonstrators right now following the recent events in neighboring Armenia, where a protest movement in April succeeded in bringing down the long-ruling patriarch. The real test for the future of the region will be whether the contagion of dissent spreads across the border into Russia, and especially its southern republic of Chechnya, which borders Georgia on the north. There, in contrast to the recent liberalizing trajectory in Georgia, a harsh anti-drug (and anti-gay) police state is fast consolidating.

Cross-post to Cannabis Now
Map: WikiMedia