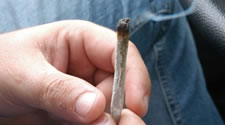 District of Columbia activists actually passed out joints to city lawmakers in their effort to press them on a law to permit cannabis sales in the nation's capital. They've also tried to win this through ballot initiative, building on 2014's Initiative 71 that legalized possession of herb in DC. But councilmembers say their hands are tied by a Congressional stricture on any further lifting of the legal pressure on cannabis.
March 27 saw a rally at the John A. Wilson Building in Washington DC, seat of the city's municipal government, where some two dozen cannabis advocates handed out joints and seeds in public—and even got at least one councilmember to accept a joint.

After the activists moved into the building, they settled outside the room where lawmakers were holding a breakfast meeting with Jewish community leaders. Councilmember David Grosso, a supporter of reforming the city's cannabis laws, was handed a joint as he left the breakfast.
The rally was called by activist group DCMJ and the DC Cannabis Business Association (DCCBA) to press for legalization of sales in the District of Columbia. DCMJ was the outfit that pushed for 2014's Initiative 71, which makes it legal to possess personal quantities of cannabis—but includes no provision for legal sales. Cannabis enthusiasts in the District have in recent months been hosting "pop-up markets" at local venues, where vendors have sought to skirt the law by selling trinkets and including cannabis-infused edibles or extracts as a gift—or making such "gifts" a gratuity upon paid entry to the event.

One such event at downtown DC's XO Lounge was shut down by the police in January, with 22 arrested. They were charged with misdemeanor drug possession with intent to distribute, although the cases were later dismissed.

"The impetus [for this rally] is that the raids have increased," said DCMJ activist Adam ­Eidinger to the Washington Post at the Wilson Building. "At our biweekly meetings at public libraries, especially in Southeast and Northeast, we've heard about this issue more than any other issue, that people's livelihoods are being threatened."

Initiative 71 legalized possession of up to two ounces. But creation of a system to regulate and tax sales has been blocked by Congress—which controls the District's budget. A congressional rider quickly enacted after passage of Initiative 71 prohibits cannabis sales in DC. It also bars the DC Council from passing measures to "reduce penalties" for cannabis offenses. The DCCBA and DCMJ are calling on council members to pressure Congress to overturn the rider—and then put in place a system to tax and regulate sales.

A measure introduced last year by Sen. Thad Cochran—a Mississippi Republican, surprisingly enough—would repeal the rider, but has yet to pass.
On March 7, the DC Board of Elections blocked another proposed ballot initiative that would explicitly legalize retail cannabis sales in the District. Building on the notion of "cannabis equity"—in which legalization policies are crafted to address the social and racial injustices of prohibition—the proposed measure would direct 40% of tax revenues from cannabis sales to the city's African American communities. But the board said that putting the initiative to the city's voters would violate the congressional rider.

The initiative was submitted to the board by activist Asar Mustafa, who portrayed the measure as a way out of Washington's long-standing fiscal challenges—which have also disproportionately affected Black residents. "Those same men and women the city has typecast as criminals," he told DC's WAMU Radio. "If you legalize cannabis, you're talking about employing those people and you get a chance to tax them while they're working in the cannabis industry.".

There is a sense of deja vu to all this. In 1998, voters approved a medical marijuana law in the District of Columbia, but its implementation was blocked by Congress until 2010, when Capitol Hill lawmakers finally allowed it to go forward. Activists complain that the program is still being bottlenecked by bureaucratic overreach. David Grosso last year introduced a bill that would ease requirements for residents to enroll in the District's medical marijuana program

The question of sales is practically certain to be in the news again next month. The third annual National Cannabis Festival is scheduled for DC's RFK Festival Grounds on April 21—the day after 420, of course. Herb-apostle hip-hop legends Cypress Hill are to headline the event. Inevitably, this raises expectations of a public smoke-in. However, as WaPo wrote of last year's entry: "While Initiative 71 did legalize marijuana for adult use in DC starting in 2015, the law bars anyone from using cannabis in public—and the festival doesn't change that."

Yet the prohibition on public use has not always been enforced. A public smoke-in was indeed held right on the National Mall precisely as Trump was making his inauguration speech last January. There were no arrests.
Cross-post to Cannabis Now
Photo by prensa420