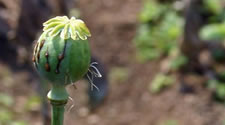 The latest stats from the UN's annual Afghanistan Opium Survey are in, and the news is grim. Opium production in the war-torn country jumped nearly 87% in 2017, to record levels—an estimated 9,000 metric tons (9,921 US tons). Areas under poppy cultivation rose by 63%, reaching a record 328,000 hectares (810,488 acres), according to the joint survey by the UN Office on Drugs and Crime (UNODC) and the Afghan Counter-Narcotics Ministry. The survey also found that the number of poppy-free provinces in the country decreased from 13 to 10, with Ghazni, Samangan and Nuristan provinces joining the list of poppy-growing regions. This boosts the number of Afghanistan's 34 provinces now cultivating opium from 21 to 24.
"It is high time for the international community and Afghanistan to reprioritize drug control, and to acknowledge that every nation has a shared responsibility for this global problem," UNODC's executive director Yury Fedotov was quoted in the press release on the report.
But the assumption that Washington and its partners in Afghanistan have failed to prioritize drug control is frankly absurd. Since overthrowing the Taliban in 2001, the US has spent nearly $7 billion to combat opium—to spectacularly counter-productive results.
Predictably, the Afghan government and the Taliban rebels are both pointing fingers at each other for encouraging the opium trade—and are both probably right. "Without drugs, this war would have been long over," President Ashraf Ghani was quoted by the New York Times as the survey was released. "The heroin is a very important driver of this war."
Another official, Gen. Abdul Khalil Bakhtiar, deputy interior minister in charge of the counternarcotics police, said the insurgents had used the growing insecurity of the past two years to establish more heroin refining labs, and move them closer to the poppy fields. Gen. Bakhtiar estimated that there are 400 to 500 labs in the country, mostly in regions controlled or contested by the Taliban. His forces have destroyed over 100 of them. But he admitted: "They can build a lab like this in one day."
For what it's worth, Zabihullah Mujahid, a Taliban spokesman, said the group "had nothing to do" with processing heroin, and denied that major laboratories existed in the areas under its control.
But western Helmand province continues to be the heartland of both the Taliban insurgency and Afghanistan's booming opium production. So it is pretty clear that opium lucre continues to be a goad for local forces in what is now the United States' longest war.

Cross-post to High Times
Photo by Tennessee Wanderer