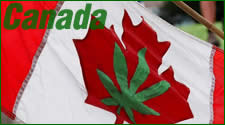 As Canada prepares to legalize cannabis next year, the country has seen several recent conferences and expositions on how industry and society will manage the transition. The latest, the Grow Up Conference and Expo, opens Oct. 6 at the Niagara Falls Scotiabank Convention Centre in Ontario, and will feature over 100 speakers from a variety of specialties, including doctors and lawyers—with a focus on cultivation.
"We're trying to attract the industry professionals from across North America that are involved in the growing aspect of it," Expo organizer Randy Rowe told the Canadian Broadcasting Company.
Rowe said the Niagara area is attracting a lot of licensed producers, with the traditionally agricultural region anticipating a lucrative new crop. "Take a drive down the highway, you'll see all the greenhouses," said Rowe. "Also, the climate down here is perfect in Ontario. We're the most southern part of Canada basically, so we have a great climate down here."
On Oct. 2, a sold-out conference in Calgary, business hub of Alberta province, was held to address the question of how workplaces will have to adapt in the era of legal weed. The forum, hosted by the new consulting company Cannabis At Work, included worshops on "demystifying" the herb and its actual effects, exploring medical versus recreational use, the difference between THC and CBD, and other such issues.

"We do a lot of education about cannabis legalization and cannabis as a medicines," Cannabis At Work CEO Alison McMahon told the CBC, "but all in the context of developing workplace strategies to manage cannabis use by an employee who might have a prescription, or looking ahead to recreational legalization and how that's going to impact workplaces."

Under the pending Cannabis Act or B-C45, possession and consumption of recreational cannabis will become legal in Canada on July 1, 2018. It is expected to pass, but implementation is sure to open new controversies. The bill sets the minimum legal age at 18, but provinces may choose to increase the age restriction. Health Canada is planning to launch a new media campaign aimed at warning minors and young adults about the "risks of using cannabis," CBC reports.

Cross-post to High Times
Photo by PhotoPhreak