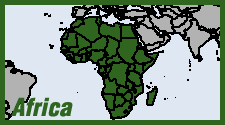 Following a favorable court ruling earlier this year, cannabis advocates and growers are making a big push for a legal industry in South Africa. A first regional industry meeting was held Sept. 20 at Cato Ridge outside the port city of Durban, bringing together producers under the banner of the Cannabis Development Council of South Africa.

The new organization is petitioning the provincial government of KwaZulu-Natal to permit cultivation of dagga as a solution for the region's struggling small farms, initially for the medical market.
The meeting was addressed by the founder of Durban-based Canna Culture advocacy grop, Krithi Thaver. "KZN farmers are struggling to grow maize, tomatoes, cucumbers and other crops and we will help them with their applications for the necessary permits to enter the cannabis industry," said Thaver.
Since the Cato Ridge conference, the provincial government has been convening meetings with rural communities to discuss the propsal. Local media are already plugging legal dagga as a "mircale crop" for the region. South Africa's Parliamentary Committee on Health has announced that the Medicines Control Council will be publishing guidelines on the growing and manufacturing of cannabis for medicinal use.
The new thrust activity was sparked following a March ruling of the Western Cape High Court in Cape Town that cannabis prohibition in South Africa is "unconstitutional," and that adults have the right to use, grow or possess in the privacy of their homes.

The verdict came in the case of the Jeremy Acton, leader of the Dagga Party, and co-litigant Ras Gareth Prince. The three-judge panel ruled unanimously that the current cannabis law doesn't meet constitutional muster, giving South Africa's governemt 24 months to draft a new one. Until then, South Africa effectively has no cannabis law.

So can you still get arrested for pot in South Africa? Alas, Health Times answers: "Yes, you probably can. The judges decided that the right to personally use, grow or possess dagga in the privacy of one's home can be used as a 'defence to a charge.' You can't be charged without being arrested." But the ruling still represents an unprecedented window of opportunity.

And the independent mountain kingdom of Lesotho, which is bordered on all sides by South Africa, has just granted Africa's first legal cannabis license. Cannabis is already Lesotho's primary cash-crop, and authorities have taken the decision to daylight it, issuing a cultivation license in mid-September to South African firm Verve Dynamics. Lesotho shares a long border with KwaZulu-Natal, pointing to the emergence of a new global production zone.

Cross-post to High Times