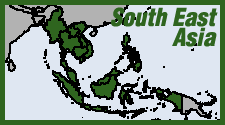 Is it really possible that Philippine President Rodirgo Duterte—who has unleashed a "war on drugs" that has now reached the point of mass murder, and used charges of narco-corruption to lock up his political opponents—is himself mixed up in the drug trade? With the Philippine Senate now launching multiple investigations into the drug-related violence, charges of involvement in the narco trade have actually reached some of Duterte's closest family members.
One Senate panel has called on Vice Mayor Paolo Duterte of Davao City and his brother-in-law Manases Carpio to appear before its hearing on the smuggling of a massive shipment of "shabu" (crystal meth) into the country. The vice mayor is a son of President Duterte, and the city where he serves is that same where the elder Duterte for years ruled as mayor, and (rights groups charge) first began unleashing death-squad terror on local low-level drug dealers and users. Presidential son-in-law Carpio said the pair will attend the upcoming hearing.

Carpio and Vice Mayor Duterte are accused by lawmakers of being behind the so-called "Davao Group" that is said to facilitate smuggling through the southern port city, including the 605 kilograms of shabu brought in from China in May. Acting on a tip from Chinese authorities, police eventually tracked down the shipment to a warehouse in the Manila area, opening the scandal now making headlines in the Philippines.

There has been growing speculation that Duterte's crackdown really masks a struggle for control of the Philippines' narco trade. Now, for the first time, a formal invesitgation is touching on evidence to this affect.

Senate hearings have already opened into a wave of bloody drug raids in the Manila metropolitan area last month, in which police killed 96 people over the course of a week—the deadliest week of the Duterte presidency so far. Especially drawing outrage is the police slaying of Kian Delos Santos, a 17-year-old high school student, in the working-class suburb of Caloocan City. Police claim the killing was in self-defence, but video footage and eyewitnesses have called this into question.

The killing has also drawn international attention. "Kian's death has rightly sparked a national outcry and public trust in the police is at an all-time low. The only way to address this is for the Philippines authorities to end all deadly drug operations, and return to return to an approach anchored on due process and rule of law," said James Gomez, Amnesty International's director for Southeast Asia and the Pacific.

UN Special Rapporteur for extrajudicial executions Agnes Callamard was even more forthright. "Yes President Duterte, this is murder," she stated. "All unlawful deaths must be investigated."

And there is growing attention to Duterte's apparent use of drug charges to silence the political opposition. Leila de Lima, one of the first senators to call for an investigation into Duterte's murderous crackdown, is now cooling her heels in a prison cell, accused of accepting money from narco-gangs for her political campaigns. When told that representatives of the Women's Caucus of the Council of Asian Liberals and Democrats (CALD) issued a statement demanding that de Lima be released, Duterte disingenuously responded, "On what grounds?"
The imprisoned de Lima retorted in a statement from her prison cell: "Of course, he knows on what grounds. On the grounds that the charges against me are all fabricated, based on the perjured statements of convicted felons; that even the perjured testimonies they provided are grossly inadequate to support the finding of probable cause... and, most of all, this is all part of my political persecution for daring to stand up for human rights and against EJKs [extrajudicial killings]."

Cross-post to High Times