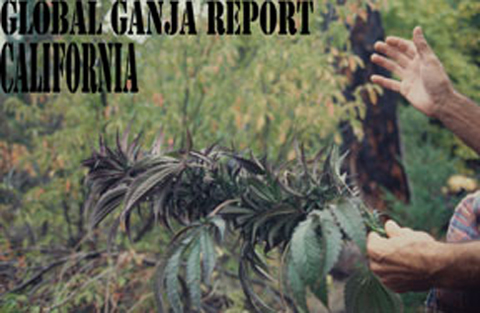 It's an ominous sign that even as California is on a countdown to cannabis legalization, to take effect in January, big pot raids continue in the Emerald Triangle. The most recent to make local news came on Aug. 22, when the Humboldt County Sheriff's Office Drug Enforcement Unit launched a three-day operation in the Conklin Creek area of Petrolia.
According to a press release posted on the local Lost Coast Outpost, a total of three search warrants were served on five parcels operating "under the same LLC" (limited liability corporation). The raids also included wardens from California Fish and Wildlife, agents from the State Water Resources Control Board and federal Bureau of Land Management, and troops from the California Army National Guard Counter Drug Unit.

Two men were arrested, named as Isidro Alexandro Sandoval and Rodolfo Machado, both charges with felonies. A total of 13,298 cannabis plants were eradicated, many growing in large greenhouses, and 6,586 pounds of processed marijuana seized and destroyed. Two pistols and a rifle were also confiscated.
In addition to cultivation charges, the men were cited by Water Board for illegal discharges into a local stream and water diversions for irrigation.
In other words, the affair recalls the bad old days the Campaign Against Marijuana Planting (CAMP), which every harvest season militarized California's northern mountains for a generation before being officially phased out in 2012.
And this is not necessarily going to change when legalization takes effect. A sobering view was offered by one longitme observer and participant in the Emerald Triangle's cannabis community, speaking to this reporter on condition of anonymity. He expects many growers in the region to remain outside the law—and subject to such old-school militarized raids.
Registering is not seen as an option by many growers, "because the regulations are incomplete and almost impossible to comply with," he said. "The pot bubble has burst, so crashing prices and extortionist regulatory fees and taxes will grind the cannabis industrial revolution to an ugly mess."

Until the tangle of state and local regulations is worked out, growers will be in an untenable position and will find it easier to remain underground. "There will probably be a few more radical changes before it normalizes."
Cross-post to High Times
Graphic by Global Ganja Report