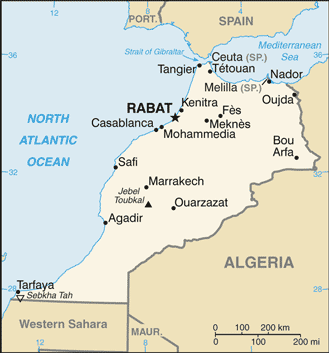 Morocco has long been the world's leading cannabis producer, but the conservative monarchy has managed to keep any talk of legalization out of political discourse—until last year, when the country's biggest opposition party submitted a bill in parliament to at least allow cultivation for medicinal and industrial purposes. Now that effort has been dealt a setback, with the unexpected resignation of Ilyas El-Omari as head of the Authenticity and Modernity Party (PAM).
El-Omari was both the country's most important opposition figure and leading advocate of cannabis legalization. Under his leadership, the center-left PAM achieved impressive gains in parliamentary and municipal rcaes. Following last year's elections, it became the biggest party in the country's parliament, with 106 seats, after the conservative Justice and Development Party (PJD). El-Omari's surprise resignation could threaten these advances. Habib Belkouch, a human rights advocate, has been named as the interim head of PAM until a permanent successor is chosen, but El-Omari's shoes will be difficult to fill.

El-Omari is the governor of Tangier-Tétouan-Al Hoceïma region, which covers the Rif Mountains—Morocco's heartland of cannabis cultivation and hashish production. An Aug. 21 report on Al Arabiya websites suggests his resignation may be linked to the wave of youth protest that has swept the region in recent months.

King Mohammed VI gave his first speech on the crisis July 30. In his remarks, he blamed local authorities for the protests. He also pardoned 30 protesters arrested during the demonstrations in a bid for social peace. But he seemed to be exploiting the unrest to weaken the political opposition. And it appears to have worked. "I acknowledge that I was being referred to in the king's speech," Omari told the press at that time, "I'm a person, I make mistakes, and I have to correct my wrongs." Moroccan press reports now suggest he may soon resign from his governorship as well.
El-Omari maintains that cannabis prohibition unfairly targets the Rif, and that the herb's illegal status allows the lucrative trade to be exploited by underground jihadist networks—linked those that have destabilized Mali and other countries across the Sahara. "Legalization would help address this issue by making all transactions observable and ensuring that poor farmers are not exploited by drug smugglers and Islamists," he said in support of his legislation.

But with El-Omari gone, the party might tilt in a more conservative direction. Political observers cited by Al Arabiya say a pact with the ruling PJD is being considered Dropping the legalization proposal could well be the price of such a deal.

Meanwhile, prohibition is obviously doing nothing to suppress Morocco's booming cannabis trade—just to keep it in the hands of criminal and jihadist networks. On Aug. 23, just days after El-Omari's resignation, authorities announced the seizure of 12.5 tons of cannabis in the Rif city of Nador. During the operation, six suspected smugglers were arrested and 19 vehicles confiscated, along with an inflatable boat, high-speed boat engines, electronic marine navigation equipment, and weapons.
Cross-post to High Times
Graphic: Perry-Castañeda Library Map Collection