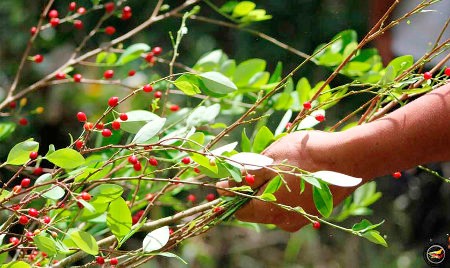 Conservative enemies of Colombia's peace process are dealt some handsome propaganda assistance by the fact that as the long civil war with the FARC guerillas has wound down, coca leaf production in the country has been
soaring
. Fears were enflamed by a March 12
Wall Street Journal
report quoting US State Department officials to the effect that Colombia now has an unprecedented 180,000 hectares under coca cultivation, with the supposed potential to produce an annual 700 tons cocaine. The figures, said to be officially released by the State Department in the coming days, are double those for 2013. (
El Tiempo
, March 13;
Semana
, March 4)
This development prompted a sobering response from the head of Colombia's new
Post-Conflict Ministry
,
Rafael Pardo
(himself a
former anti-guerilla hardliner
). In an interview with Spanish daily
El País
, he warned: "If there is not a drastic reduction in coca cultivation, the peace will not be sustainable."
Just as the State Department figures were reported, Colombia's air force carried out its first air-strikes of the year—on a "
dissident
" FARC faction in the jungles of eastern Guavirare region that has rejected the peace process. (
El Tiempo
March 11) The FARC's dissident 1st Front in Guaviare has long been locked in a struggle with the paramilitary-linked Clan Úsuga cartel (also known as the
Clan del Golfo
) for control of the region's cocaine industry. But Bogotá's
El Tiempo
reported March 12 that authorities believe the 1st Front and their former narco-paramilitary enemies are now negotiating a pact to resist the government together.
And the Colombian government has announced a new campaign of forced eradication in Guaviare and the south of neighboring Meta. The newly formed National Coordinator of Coca, Opium and Marijuana Producers (
COCCAM
) issued a
statement
protesting that the resumption of forced eradication in the region violates provisions of the peace accord.
COCCAM weeks earlier led a
peasant strike against coca eradication
in southern Nariño region, to press demands for a more enlightened policy, in line with the government's own commitments under the accord—a reminder that the peace now breaking out in Colombia remains very fragile and tentative.
Cross-post to High Times


Photo: Prensa Rural