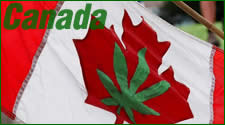 Canada's prince and princess of pot, activist-entrepreneurs Marc and Jodie Emery, have been charged with multiple trafficking-related counts, following the March 9 raids on their Cannabis Culture outlets in Vancouver, Toronto and Hamilton, Ont. CBC News reports that the duo face multiple charges including drug trafficking, possession for the purpose of trafficking and conspiracy. Jodie Emery reacted to the busts by calling out the Trudeau government for hypocrisy. She told Canada's Global News: "If this is legalization, then Justin Trudeau lied to the Canadian people. This is a new form of prohibition." Urging Candians to call Prime Minister Trudeau and "ask why we're seeing more people being harmed under our so-called legalization than we ever saw under [ex-PM] Stephen Harper's anti-marijuana poicies."
She went on to pose a big-money power-play behind the raids: "This is about protecting the corporate profits of stock-market businesses. They have sent the police to arest peaceful people to protect their own financial interest.... Shame on the Toronto Police Service and the Toronto city government for harming peaceful people."
Just before the busts, the Toronto Globe & Mail reported that stocks in Canadian canna-businesses had been diving recently, as Trudeau's legalization czar Bill Blair continued to say that Ottawa won't rush into legalization. Blair, the former Toronto police chief, confirmed that a bill is due in parliament this spring—but was quick to emphasize that working out a regulatory framework would be a lengthy process, even after the bill passes. (This despite Trudeau's campaign promise that there would be legal cannabis in Canada "right away.")

But perversely, Canada's Financial Post reports that stocks in publicly-traded cannabis companies actually took a bounce after the Emery couple and three associated were arrested. The day after the news broke, Canopy Growth Corp closed nearly 6% higher on the Toronto Stock Exchange at $11.07. Aphria Inc was up 6% to close at $6.67, while Aurora Cannabis also rose 6% to close at $2.41.
The new Emery case could determine what the future of Canada's cannabis industry will look like. Dispensaries like the Cannabis Culture chain currenty operate in a "grey area"—tedhnically illegal at the federal level, but formally or informally tolerated by some local authoriteis. It remains to be seen if Canada's legalization regime will provide more elbow room for dispensaries, or if the Licensed Producers created for the national medical marijuana system will also come to dominate the recreational market.
Contacted for comment, David Malmo-Levine, the Vancouver-based activist who challenged cannabis prohibition in Canada's courts, told HIGH TIMES: "The LPs are in direct competition with the dispensaries —and the dispensaries have advantages: 1) you can inspect and smell the pot before you buy, 2) you can ask the bud-tenders unlimited questions (and they have smoked it all so they can tell give you good information) and 3) there's less bullshit—some dispensaries (like Cannabis Culture) just ask for ID and nothing else."
Malmo-Levine owns the Stressed & Depressed dispensary, one of several slated to come under official regulation by Vancouver city authorities. But the judge in the Emery case has issued a formal order that the couple cease operation of Cannabis Culture.

Cross-post to High Times
Photo by PhotoPhreak